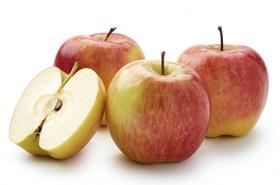 Short but sharp; that's how Montague will approach the sales programme for Ambrosia apples in Australia this season.
The leading family-owned fresh produce company introduced the branded offering to customers at Costco, along with selected greengrocers and independent supermarkets, this week.
"This will be a quick season which will remain for only a few short weeks," Montague explained in a release.
Ambrosia trees were first planted in Australia in winter 2016. Production is currently spread across Tasmania's Tamar and Huon valleys, southern Victoria, Batlow New South Wales and Stanthorpe Queensland.
Ambrosia was discovered as a chance seedling in British Columbia, Canada, in the early 1990s. It takes its name from ancient Greek and Roman mythology, meaning 'food of the Gods'.
"Ambrosia is an intensely sweet, juicy and aromatic apple that satisfies all senses," said Montague director and third-generation family member, Scott Montague.
The variety is being launched in Australia with eye-catching branding and the tagline: 'Mmmbrosia. Sweet by Nature'.