Ben Gudex and Craig Fulton will further cement the company's commitment to raising the bar in genetics
Mountain Blue has appointed Ben Gudex as agronomist and Craig Fulton as international technical manager to advance its work in blueberry cultivation and genetics. Gudex, a seasoned blueberry agronomist with over 15 years of experience, brings extensive expertise in both conventional and organic production systems.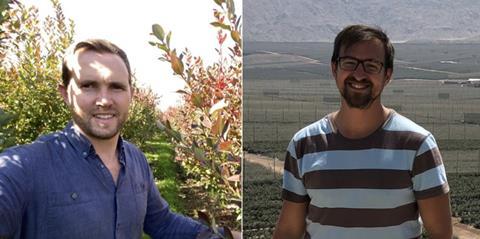 Having contributed to the expansion of the Woolworths agronomist team, his international consulting experience in Morocco, South Africa, and China, including support for greenfield blueberry operations, adds a global perspective to Mountain Blue's endeavours.
Gudex said he was proud to join the Mountain Blue team, adding that "the world-class breeding programme, professionalism, and family legacy all make an outstanding recipe for success".
Fulton has transitioned from South African biodiversity and ecology studies to blueberries, and his close collaboration with Mountain Blue genetics uniquely positioning him as an expert in breeding and growing practices.
Mountain Blue said his comprehensive background in agriculture further cements the company's commitment to raising the bar in genetics. Fulton commented: "I look forward to supporting the Mountain Blue team in their relentless quest to raise the bar on the blueberry genetic experience".