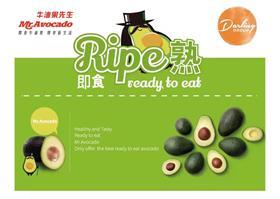 Mr Avocado, China's leading avocado brand, has paired up with New Zealand avocado supplier Darling Group to roll out an extensive promotional campaign for the 2021 season for the first time in China.
New Zealand avocados gained market access to China three years ago, but there is still significant untapped potential for the fruit. Compared to Chile, Peru and Mexico, New Zealand has the advantage of a much shorter shipping distance to China.
Mr Avocado and Darling Group forged their partnership earlier this year (2021) and since the beginning of the season, Darling Group has been shipping two containers to China on a weekly basis. After ripening at Mr Avocado's dedicated modern ripening facility, Darling Group's avocados are distributed to close to 5,000 Pagoda fruit stores across the nation.
With their stable quality and consistent supply, Mr Avocado-branded avocados have already won over many Chinese consumers. Mr Avocado and Darling Group now plan to develop larger-scale and more in-depth collaboration next year.
Mr Avocado recently hit a milestone of selling an average of 180,000 avocados per day. With its consistent product quality and year-round supply, Mr Avocado provides strong and reliable support to retailers seeking to maintain the presence of avocados on their shelves, and to offer high-quality avocados from around the world to consumers.
Mr Avocado is striving to develop deeper supply relationships with different avocado regions around the world, and to continue to expand its procurement network.
Contact: Sabrina Duan
Email: info@mr-avocado.com
Website: www.mr-avocado.com