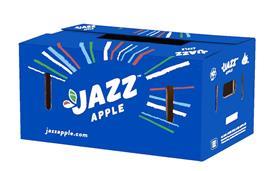 T&G Global is on track to export over 35,000 tonnes of New Zealand-grown Jazz apples this season.
The 2022 campaign got underway today (29 March), with the first consignment departing the Port of Nelson.
The initial shipment is destined for Europe, a cornerstone market for Jazz.
"Our New Zealand-grown Jazz apples will arrive just in time to seamlessly transition from European grown Jazz apples, ensuring our consumers can enjoy Jazz all year round," said Rachel Stotter, director of sales at T&G Global.
"Europe holds great value for our Jazz apples, with the brand's premium apple qualities standing out from the pack. Jazz has built a great reputation for its distinctive tangy-sweet flavour and refreshing taste profile."
New Zealand-grown Jazz will also be exported to the UK, North America and Asia this season.
T&G Global director of operations, Craig Betty, said this season's New Zealand Jazz apples are of an exceptional quality.
"This year, the colour and size of our premium Jazz apples is fantastic, with the weather providing a great growing season with just the right amount of rain, followed by warm days to produce high-quality apples," said Betty.
"While the industry is facing many challenges this season, given workforce shortages and ongoing supply chain constraints, our T&G team and network of growers are doing everything they can to harvest, pack and export this year's great crop, so consumers around the world can enjoy our delicious Jazz apples."
Approximately 2m cartons (36,000 tonnes) of Jazz apples are expected to be exported throughout the New Zealand season.
T&G Global is investing in sustainable packaging options to market this year's crop.
"As part of our commitment towards achieving 100 per cent recyclable packaging by 2025, last year we sold 3.5m cardboard foodtainers of Jazz in Europe and we're looking forward to building on that in the year ahead," said Stotter.