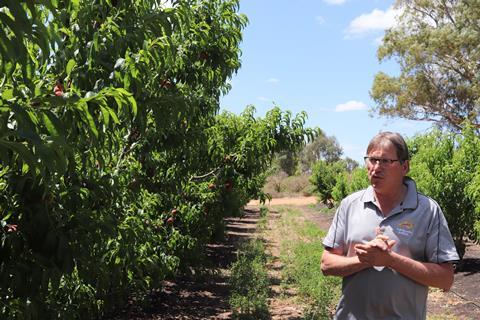 Based in South Australia's Riverland region, The Chosen Ones (TCO) is a premium stonefruit brand owned by Quality Fruit Marketing (QFM).
The programme originated in 2004 when Nuffield scholar and 'flavour finder', Jason Size, teamed up with QFM chairman, Michael Trautwein, to test different varieties for their growers.
"We visited a breeder in France that had nectarines with sensational flavour," recalled Size.
"In 2005 we started testing new varieties in our evaluation site at Renmark, and that number has now grown to over 1,100 varieties."
Walking through the test orchard in Renmark, it's clear that QFM's approach to growing fruit destined for the TCO brand is centred on two key values: patience and sophistication.
Of the varieties tested here, only a small amount will meet QFM's strict requirements – and that's what makes this programme so unique.
"We test these varieties to make sure they are suitable for our growing region and they have the qualities we need for the TCO brand," said Size.
"We are very critical in our evaluations and only the absolute best will be selected.
"Probably one in one hundred will be chosen for commercial production, and that's based on crop yield, sugars, texture, juiciness, flavour and shape. All the varieties are scored on these criteria and ranked accordingly," he added.
Although the majority of QFM's current production will be sold through independent grocers across Australia, Trautwein says the premium product has strong export potential.
"TCO gold nectarines have had very good market acceptance in China, Singapore, Thailand and India," he said.
"This was a surprise to us as the fruit has acidity, but this adds to the complexity of the flavours and the profile is very suited to the Asian market.
"It has set the standard for yellow flesh nectarines throughout Asia and that is going to be the largest market for TCO fruit aimed at premium value," added Trautwein.
QFM plans to conduct promotional activities in China, Hong Kong, Thailand and India in 2020, in an effort to encourage consumer engagement and increase brand awareness.
"We've developed a unique fruit sticker, which has messages for consumers to help them know when to best eat the fruit, firm or soft, and how to store fruit at home.
"The fruit sticker is our best way of communicating with consumers," explained Trautwein.
Plums, apricots, cherries and peaches are currently being tested at the company's Renmark orchard, but as Size explained, they have to be patient.
"It can take up to ten years from our overseas visits before we see commercial plantings of fruit ready for the market," he said.