E-commerce giant JD.com has high hopes for season ahead with Zespri-branded fruit
JD Fresh hopes to sell 2m trays (3.3 kg equivalents) of New Zealand-grown kiwifruit in China over the 2023 campaign.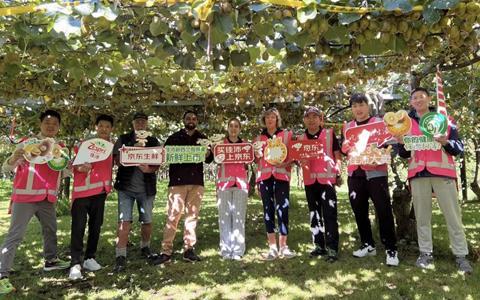 The fresh food division of e-commerce giant JD.com welcomed its first shipment of new-season fruit from New Zealand kiwifruit marketer Zespri earlier this month.
If early signs are anything to go by, JD Fresh is well on track to achieving its goal.
"JD.com's sales of the newly arrived fruit since April 8 have increased by 55 per cent compared to the same period last year," according to a media release from JD.com. "Quick customs clearance in China following the lifting of Covid restrictions has contributed to the strong start to this year's fruit season."
JD Fresh will market Zespri's gold, green, and red varieties over the course of the 2023 campaign.
Nuo Xiao, general manager of JD Fresh's procurement and sales department, said high-quality imported fruits were again in demand among Chinese consumers.
"China's fruit market is experiencing significant growth recovery this year, driven by increasing demand for high-end and imported fruits," said Xiao.
"Our collaboration with Zespri underscores our commitment to providing Chinese consumers with the freshest, authentic and high quality produce from around the world."
JD.com and Zespri forged a strategic partnership in 2016. Four years later, JD.com became Zespri's first direct e-commerce retailer worldwide.
Zespri's kiwifruit sales on JD.com reached an all-time high in China in 2022. Carol Ward, Zespri's chief grower, industry and sustainability officer, said it was a testament to the retail platform's effective distribution, marketing, omni-channel sales, and after-sale guarantee service.

"We are delighted to partner with JD.com to bring Zespri kiwifruit to more Chinese consumers," said Ward. "JD.com is a leader in the e-commerce and supply chain industry in China, and we are confident that this partnership will help us to further expand our presence in the Chinese market."
JD Fresh buyers visited Zespri's headquarters in New Zealand in early March. They had the opportunity to explore orchards and packhouses in the Bay of Plenty region, giving them a better understanding of the kiwifruit growing journey.