Freshmax apple and pear business renamed Kiwi Crunch following sale to GTP Orchards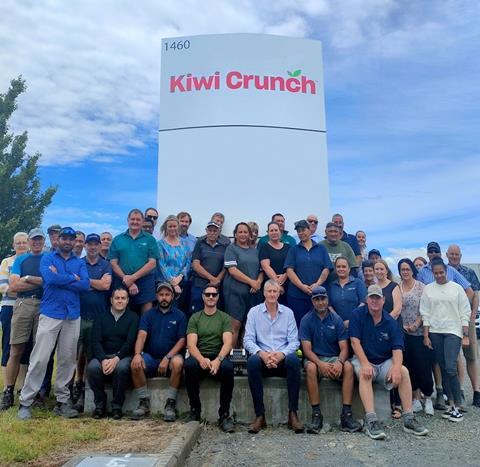 New Zealand apple and pear grower-packer-marketer Freshmax has rebranded following the recent sale of the company, adopting Kiwi Crunch as both its international and domestic brand.
The sale, which took effect on 1 October 2022, will see Freshmax Orchards, Freshmax Exports and Crasborn Fresh Harvest trading under the Kiwi Crunch brand from the 2023 season, according to a media release from the company.
The Hawke's Bay-based pipfruit business was purchased by GTP Orchards, a company associated with MNF Family Office.
GTP is part of a privately-owned New Zealand investment group with significant interests in a range of industries including manufacturing, automotive, sawmilling and forestry. MNF shareholders Wade Glass and Paul Southam said the Freshmax acquisition will complement their current business portfolio.
"GTP Orchards and MNF have strong backgrounds in primary industry and have been seeking to invest in a New Zealand horticultural business of scale. Freshmax's New Zealand pipfruit operations presented the perfect opportunity to realise this goal," said Glass.
Long-established brand
The transition to the Kiwi Crunch brand has begun, with new signage being erected at the Hastings head office in Omahu Road, and the brand rollout is expected to be complete by the end of March 2023.
Kiwi Crunch CEO Andrew Common said that with the change of ownership, the decision was made to undertake a renaming along with new branding to bring the whole business under the Kiwi Crunch banner.
"The Kiwi Crunch brand has been long established in the market, originally developed and formerly owned by the Crasborn Group," said Common. "We will now have brand consistency across the domestic and international markets."
After six years under Freshmax ownership, he said the business is also pleased to be back in family ownership.
"What started as a family operation is now back in private hands, which is important for us as it was built on a foundation of strong family values. We are also pleased to have retained the support of the Crasborn family in this transition," added Common.
Eyeing growth opportunities
Kiwi Crunch said it will continue to be a strong supporter of Hawke's Bay and a large employer within the region, employing more than 130 permanent staff and management, together with 700 seasonal workers during peak season. While the business name has changed, there will be no operational changes, the company said.
"For our customers around the world in the key markets of North and South-East Asia, Europe, North America, India and the Middle East, it is business as usual, with no changes to supply or service," said Common. "We remain a significant New Zealand business – a full-service global pipfruit grower, packer, distributor and marketer."
The new ownership comes at an opportune time, according to Common, who pointed out that Kiwi Crunch is looking increase its investment in the business and welcomes the new shareholders' long-term view of the growth potential.
"This is very much the start of a new chapter for our business," he said. "We see massive opportunity for further growth in the Hawke's Bay region."