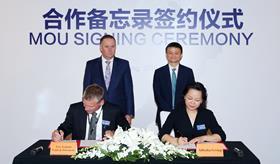 Leading Chinese e-tailer Alibaba and New Zealand Trade & Enterprise (NZTE) have signed a memorandum of understanding to strengthen trade between the two countries.
New Zealand prime minister John Key and Alibaba founder Jack Ma were on hand at the signing ceremony in China on 18 April.
NZTE, the New Zealand government's international business develop agency, is hoping to boost opportunities for New Zealand company's to enter China's consumer market, with Alibaba to offer support to companies through its various online platforms.
As part of the agreement, Alibaba is offering New Zealand companies services to help sell products to China through both retail and wholesale platforms, such as B2C platform Tmall, and its dedicated fresh food platform Tmall Fresh Food.
Alibaba managing director for Australia and New Zealand, Maggie Zhou, said that with Alibaba's strong network across China and its expertise in e-commerce, it could enable Chinese consumers to benefit from premium New Zealand products.
"We are excited to extend our cooperation with the New Zealand Government by collaborating with NZTE to support local businesses to enter China through Alibaba's platforms," Zhou said.
"New Zealand businesses are already using Alibaba's channels to sell a wide range of products including dairy, meat, seafood, fruit, wine, beverage, cereal, skincare and health supplements. By providing dedicated services for New Zealand products, this new arrangement offers significant opportunities for New Zealand businesses to reach more consumers as well as advocating New Zealand's reputation as a place of open spaces, open hearts and open minds," NZTE cheif executive Peter Chris, added.