Bostock New Zealand and Tony Fruit celebrate fruit's arrival with major launch event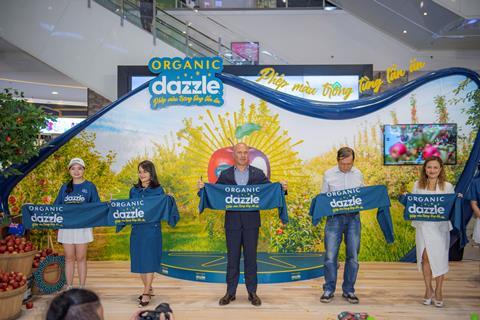 New season New Zealand-grown organic Dazzle apples have landed in Vietnam.
To celebrate the fruit's arrival, a launch event was held at the Aeon Mall in Ho Chi Minh City on Saturday (28 May).
New Zealand Trade and Enterprise (NZTE) trade commissioner, Joe Nelson, attended the celebration, officially launching the organic Dazzle campaign by cutting a ceremonial ribbon.
The event was organised by New Zealand's largest organic apple grower-packer-exporter, Bostock New Zealand, and leading Vietnamese fruit importer, Tony Fruit. The pair have teamed up to deliver organic Dazzle apples to Vietnamese consumers this season.
Bostock New Zealand's international market manager, Jane Maclean, said it was exciting to put organic Dazzle firmly in the spotlight.
"Last year's promotions were cancelled due to the Covid outbreak, so it's great to be able to officially introduce our organic Dazzle apple to the market this season," Maclean said.
"Dazzle is a variety which we have specifically developed for the Asia market, with its sweet, crunchy and delicious taste.
"Alongside the amazing eating attributes, Dazzle has a strong, appealing brand; something that has enabled Bostock and Tony Fruit to stand out from the many other apples in the market and successfully attract new Vietnam consumers to trying Dazzle apples."
After a successful opening season with organic Dazzle in 2021, Tony Fruit plans to market larger volumes of the fruit this year.
"It's great to see the increased volume of organic Dazzle apples shipped to Vietnam this season to meet the growing demand across our retail and sales channels," a Tony Fruit representative said.
"This is Tony Fruit's second year partnering with Bostock New Zealand on organic Dazzle and we enjoy having their full trust and confidence in moving to exclusive distribution this season. Early arrivals of organic Dazzle have been selling strongly across Vietnam."
Bostock New Zealand set up an office in Vietnam in 2018. The company's market representative in Vietnam, Nguyen Huong, said demand has grown for organic apples over the last two years.
"Vietnamese consumers are placing a stronger focus and priority on their personal health and food safety and as more retailers move to stocking organic product, organic is becoming more accessible and widely available to the average consumer," Huong explained.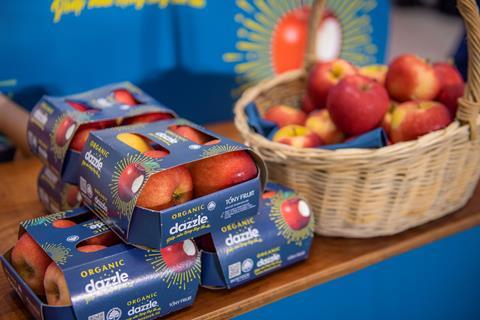 The Bostock family has been growing organic apples in New Zealand for over 25 years.
Maclean said the company was committed to keeping up with growing global demand for organic produce, and educating consumers about the category.
"Organic apples are grown naturally without the use of chemicals or synthetic fertilisers," she explained. "When you choose a Bostock organic apple – you are looking at the safest and healthiest choice for your body.
"As a result of not using conventional sprays – our apples aren't always cosmetically perfect. While organic apples can sometimes have more cosmetic imperfections, they are nutrient-dense and full of flavour and just as dazzling, if not more, in its eating experience."
Bostock New Zealand has also invested in compostable stickers for its organic apple offering. Recyclable cardboard trays are also being used for its organic Dazzle apples.
"Our organic Dazzle compostable stickers aren't plastic; they are made from plant materials and are compostable. Our sustainable packaging for our organic Dazzle apples is a real point of difference for Bostock New Zealand," MacLean said.