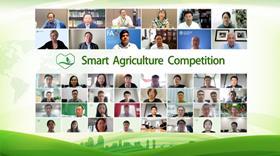 Hundreds of young agricultural scientists from around the world have applied to join Pinduoduo's tomato-growing Smart Agriculture Competition, a contest aimed at promoting the adoption of agricultural technology for smallholder farmers.
Four teams were selected to enter the final round by a panel composed of leading experts and growers with diverse backgrounds including horticulture, crop modelling, algorithm design and policymaking.
The finalists will proceed to Pinduoduo's smart greenhouse base in Yunnan province to implement their horticulture plans over the next six months.
"We are delighted to see young talents across the world joining our Smart Agriculture Competition," said Zhao Chunjiang, academician of the Chinese Academy of Engineering and head of the judging panel.
"We hope to build an innovative and open platform to stimulate the creativity of young scientists and to promote China's agriculture modernisation together."
The Smart Agriculture Competition is an annual contest organised by Pinduoduo, China Agricultural University and Zhejiang University.
Participating teams are challenged to develop cost-effective smart agriculture technology suited to China's agricultural conditions. The focus for evaluation this year centres on nutritional content and environmental sustainability in addition to yield and cost.
The organisers hope that the event will inspire more youths to consider careers in agriculture and challenge the traditional perception of farming as a labour-intensive and low-tech industry.
"Agriculture is the foundation of the development of human society and the nexus of social welfare, security, health and environment sustainability," said Andre Zhu, senior vice president at Pinduoduo.
"As China's largest platform for agriculture, we want to contribute more to promote environmentally sustainable practices and groom the next generation to support agricultural modernisation."
The finalists looked forward to moving on to the implementation phase of the competition.
"Our goal is to promote the development and application of information technology in agriculture," said Team CyberTomato, one of four teams that made the finals.
"We hope to create a high-quality and high-yield model through technological innovation, integration and application, starting from tomato planting and extend it to other crops."
Team TomaGrow, which comprises researchers from Wageningen University and Chinese agri-tech start-ups, said it will use the latest scientific research on tomatoes and LED lighting to improve quality.
"Our team will make timely judgments based on changes in the external environment and quickly adjust greenhouse parameters, so as to achieve stable yield with quality," Team TomaGrow said.
Founded in 2015, Pinduoduo now connects more than 16m farmers to its 850m users, helping agricultural growers to expand their market access and consumers to get fresher produce at better prices.
Pinduoduo has been a strong champion of the use of agricultural technology to boost productivity while ensuring environmental sustainability. Last month, the company launched its "10 Billion Agriculture Initiative" to accelerate the development and adoption of agricultural technology and reward agricultural sector workers.