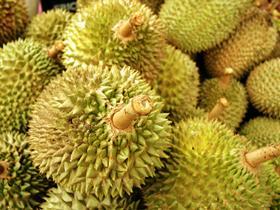 Plantations International has launched its first commercial grade organic Musang King durian plantation, via subsidiary United Tropical Fruit.
The plantation is located on a 40ha site in the Malaysian state of Pahang and has been secured by United Tropical Fruit on a 60 year leasehold basis.
Gareth Cookson, director of operations of Plantations International in Asia, said the organisation was committed to delivering the best organic product possible.
'We will be the only players in the market that have invested the time, money, research and development to achieve a truly organicMusang King durian," said Cookson.
"We will breed 100 per cent organic seed nuts, so the organic chain of custody starts way before the Musang King durian sapling is planted into the ground."
Raymond Samy the Managing director of United Tropical Fruit said the company was purely export-focused and China was its primary target.
'It's my job to ensure that all quality control protocols strictly adhered to, from the planting stage to the transport of the harvest Musang King durian fruit to their final destination. With such a precious and rare product, we can leave nothing to chance," said Samy.
'Currently in China, non-organic Musang King durian is retailing for well over US$100/kg, we have noidea what our hand grown organic Musang King durian will sell for as we arepioneering the industry, but if we go by other fruits such as organic mangoes, we are very easily looking at 50 per cent price premium.'
Expanding durian brand
Plantations International has also announced it will be expanding its Durian Harvests brand to Indonesia with the formation of Durian Harvests Indonesia, based in Jakarta.
Durian Harvests Indonesia will be responsible for the sales, marketing and distribution of Musang King durian fruit and processed Musang King durian products to the Indonesian market.
All Musang King durian fruits will be provided exclusively by United Tropical Fruit from its plantations in Pahang, Malaysia.