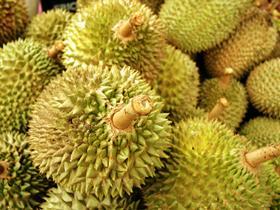 PLS Plantations is set to acquire around 28ha of land for durian plantations as it looks to capitalise on a growing demand for the fruit in China and around the world.
According to a report from Edge Malaysia, sources close to the company said the plantation will include a range of durian varieties with a focus Musang King, Black Thorn and D24, varieties.
This acquisition is in line with a number of other moves made by the Malaysian company to increase its investments in durian.
Recently, it acquired durian exporter Dulai Fruits Enterprise and announced plans to raise up to RM1.05 billion (US$239m) to expand its durian plantation business with most of that total going towards land acquisition, cultivation, planting and maintenance.
However, PLS Plantations' move into durian is still at a very early stage. According to its 2019 annual report, it currently only has 18ha of durian planted, which pales in comparison its 10,516ha of oil palms.
Kenny Wan, managing director of Malaysian durian exporter Newleaf Plantation, said while demand for durian had grown in Australia, Canada and the Middle East, China's thirst for durian was motivating investment in Malaysia.
"The increased interest in durian cultivation can be attributed to the recent approval of whole fruit durian export to China. We expect to see a 50 per cent increase in exports to China next year," Wan told Edge Malaysia.
"Nevertheless, we shouldn't be depending on a single market. There are many other potential markets to be developed for Malaysia durians," he said.