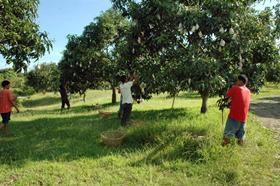 A new study from the Southeast Asian Regional Centre for Graduate Study and Research in Agriculture (SEARCA) has shown post-harvest loss experienced by the mango, tomato and onion industries in the Philippines.
The Asian Development Bank (ADB)-fundedproject focused on the three crops given their position as staples of the Filipino diet.
The study analysed the value chain of each commodity and quantified the value and volume of post-harvest loss across different domestic supply routes.
For mangoes the study revealed fruit produced in the province of Iloilo and traded in Manila showed the highest post-harvest loss at 33.89 per cent, the Pangasinan-Manila route ranked second at 30.85 per cent.
The province of Pangasinan registered the highest volume 31,581 tonnes and value PhP1.5m (US$30,000) of post-harvest losses when mango was traded in Manila because it has higher mango production than other provinces.
Meanwhile, the total post-harvest loss of freshly harvested onions from the farm in Bongabon, Nueva Ecija to the final market in Divisoria, Manila was 45 per cent.
The estimated volume of post-harvest losses for red onion reached 48,891 tonnes and a value close to PhP1.96bn. Post-harvest losses for the cold stored onion chain with the same route total to 63.90 per cent, with estimated volume and value lost at 69,333 tonnes and nearly PhP4.01bn, respectively.
Freshly harvested tomato produced in Nueva Ecija and traded in Manila incurred postharvest loss of 10.94 per cent. The volume of post-harvest losses reached 1,930 tonnes with a value of PhP47m.
The total post-harvest loss of freshly harvested tomatoes from the farm in Bukidnon, Northern Mindanao to the final market in Manila was much higher at 24.14 per cent due to longer travel duration.
Some of the key recommendations to post-harvest losses for the three commodities included investing in cold storage and packing facilities, providing of delivery vehicles to facilitate transport of goods, developing online trading/digital marketing in partnership with the private sector, increasing access to credit and insurance, and strengthening extension services at the grassroots level.