JWM Group's Joyvio Blueberries recognised as Shenzhen Reading Month's strategic partner for the fifth year in a row
As the most influential reading and cultural event for the people in China, the Shenzhen Reading Month held its successful 23rd edition on 1 November to 20 November 2022.
Joyvio Blueberries, the strategic partner for the fifth consecutive year, advocated the brand concept of 'Knowledge is important, so is eye care' with the Shenzhen Reading Month to promote health, vitality and knowledge exploration.
By co-launching the 'Read for an hour, enjoy Joyvio Blueberries' activity this year, Joyvio Blueberries and the Shenzhen Reading Month set a trend of stressing reading and eye care nationwide and received wide attention from mainstream media in Shenzhen.
Shenzhen Reading Month was started in 2000 by the CPC Shenzhen Municipal Committee and the Shenzhen Municipal People's government and has since conducted over 10,000 cultural activities achieving a participation level of 240m people/interactions.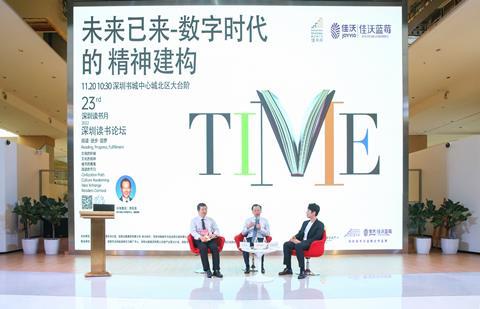 The event's influence now extends to the whole country, evolving into a cultural calling card for Shenzhen and an important carrier to fulfill citizens' cultural rights.
In 2013, UNESCO conferred the title of Global Model City for the Promotion of Nationwide Reading to Shenzhen for its progress made in globalisation and cultural exchange and cooperation with other countries. Shenzhen has built itself into an exemplary city to promote books and reading across the world.
As a fruit brand highlighting eye care, Joyvio Blueberries' slogan 'Do your eyes a favour, enjoy Joyvio Blueberries' and its proposition 'Knowledge is important, so is eye care' are highly complementary to the cultural idea of the Shenzhen Reading Month, which is 'Read more books, read good books'.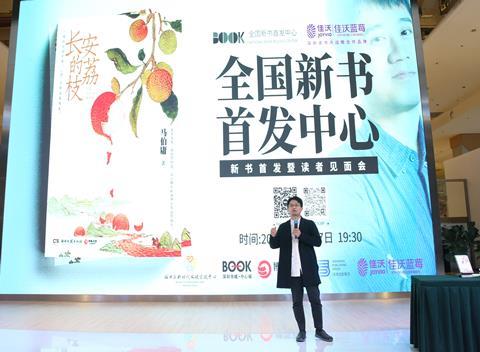 In the five consecutive years of strategic partnership, Joyvio Blueberries has worked with Bai Yansong, Zhou Guoping and other influential writers in China to open new horizons. In this Shenzhen Reading Month, Joyvio Blueberries continued joining hands with professors from top-notch universities and famous writers in China to launch the Shenzhen Reading Forum – a themed activity involving a sharing salon with famous writers, staging a feast of flowing mind and culture to citizens in Shenzhen.
The 'Read for an hour, enjoy Joyvio Blueberries' activity started by Joyvio Blueberries has motivated people across the whole city to participate. Every reader in Shenzhen may receive a gift at Joyvio Blueberries' booth at the Shenzhen Book Fair by showing the proof of reading for an hour. Joyvio Blueberries always stands ready to care for the eyes yearning for knowledge.
The booth of Joyvio Blueberries became a must-go spot during the ten-day Shenzhen Book Fair that attracted over 1.1m visits. The debut of the brand IP Joy Joy and Vio Vio in local school uniforms was especially favoured by students and parents.
'Read for an hour, enjoy Joyvio Blueberries' not only enriched the eyes of readers but also helped the reading promotion campaign to reach all people. It was followed and covered by official media of the Shenzhen Municipal People's Government, mainstream media in Shenzhen and even online.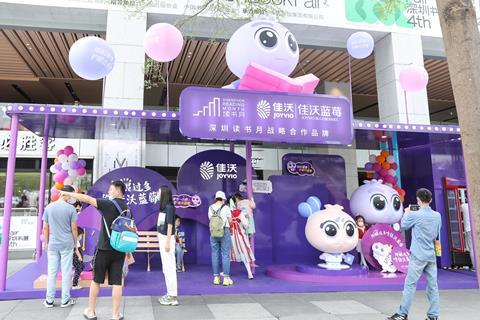 Cultural development will not succeed without innovation and this year, Joyvio Blueberries also joined hands with the new retail-driven supermarket Freshippo to expand healthy reading to serve people's livelihood.
By holding a one-day reading carnival in Freshippo – rich with funny and interesting content – Joyvio Blueberries brought citizens a wholly different reading experience and witnessed its blueberries become a best-selling product among Freshippo users.
Joyvio Blueberries, one of the high-end brands of China's leading fruit company Joy Wing Mau Fruit Technologies Corporation, has made active efforts in pursuit of knowledge, health and fitness, and personal betterment and kindness.
By supporting the Shenzhen Reading Month for five years in a row, Joyvio Blueberries has advanced the nationwide reading campaign and helped public culture undertakings achieve more milestones.
In November, Joyvio Blueberries also entered a strategic cooperation with China's aerospace industry so that more people can enjoy aerospace-quality fruit and celebrate a quality life with improved health and energy.