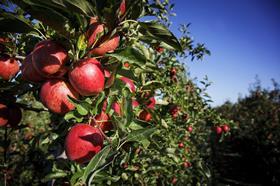 Fresh fruit sales have propelled export growth for New Zealand's horticulture sector over the 12 months to 30 June 2020, according to Plant & Food Research and Horticulture New Zealand's Fresh Factsreport.
Total horticulture exports reached a record-high NZ$6.6bn (US$4.6bn) over the period, up from NZ$6.2bn the year prior (12 months to 30 June 2019).
Fresh fruit export earnings increased 8 per cent year-on-year to NZ$3.7bn. The segment was led by kiwifruit, which generated NZ$2.5bn in export revenue in 2020, up from NZ$2.3bn in 2019.
Apple export earnings rose to NZ$876m, up from NZ$828m in 2019, while there was also year-on-year growth for avocados (NZ$112m, up from NZ$104m in 2019) and blueberries (NZ$44m, up from NZ$40m in 2019).
Production and logistics challenges saw the value of New Zealand cherry exports fall from NZ$69m in 2019 to NZ$51m in 2020.
Vegetable sales static
Fresh vegetable export earnings came in at NZ$300m over the 12 months to 30 June 2020, down from NZ$304m a year prior.
Onions remain New Zealand's largest fresh vegetable export category, generating NZ$148m in revenue in 2020, down from NZ$170m in 2019.
Potato sales fell from NZ$23m in 2019 to NZ$20m in 2020, although there was an increase in the export value of squash (NZ$79m, up from NZ$60m in 2019) and capsicums (NZ$25m, up from NZ$21m in 2019).
Processed vegetable exports increase in value to NZ$424m, up from NZ$396m a year prior.
Growing importance of Asia
New Zealand horticultural products were exported to 128 countries in 2020. The top five markets were Continental Europe (NZ$1.1bn), Japan (NZ$917m), the US (NZ$864m), Australia (NZ$836m) and China (NZ$784m).
These five export markets accounted for a combined NZ$4.5bn, more than two-thirds (68 per cent) of New Zealand's total horticultural exports in 2020.
Exports to all Asia markets reached NZ$2.8bn, up from US$1.2bn in 2010. The diversity and popularity of New Zealand horticultural products being exported to this region is apparent, with 25 lines shipped to Asian markets generating between NZ$5m and NZ$1.7bn in sales in 2020.
The Fresh Facts report said the total value of the New Zealand horticulture industry exceeded NZ$10bn for the first time in 2020.
David Hughes, chief executive of Plant & Food Research, commended the industry's ability to weather the effects of Covid-19 and reach a new export high.
"In a year affected by the Covid-19 pandemic, New Zealand's horticulture industry has demonstrated resilience and our produce is more in demand than ever," said Hughes.
"Our reputation for high quality and safe food, combined with excellent growing systems and novel products, is vital in maintaining New Zealand's share of the global marketplace."