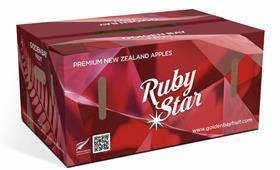 Golden Bay Fruit (GBF) has unveiled a new look for Ruby Star apples.
The New Zealand grower-packer-marketer will begin shipping new season Ruby Star next week, with initial consignments headed to Vietnam and Thailand.
To reinforce the offering's premium positioning, GBF has refreshed the Ruby Star brand visuals, playing on the name by bringing in dazzling ruby gems on packaging and point-of-sale (POS) materials.
To support these new look visuals, GBF is rolling out a new tagline 'the gem of apples'.
GBF's South-East Asia commercial manager, Julien Baumann, said Ruby Star has became popular in Thailand and Vietnam thanks to its colour and crisp, delicate texture.
"Based on retailers' feedback the refreshed look goes hand-in-hand with that," Baumann explained.
The refreshed POS materials include a new Ruby Star carry tray pack, which will be launched in Thailand this season. The packaging is plastic-free as part of a drive to improve sustainability across the GBF business.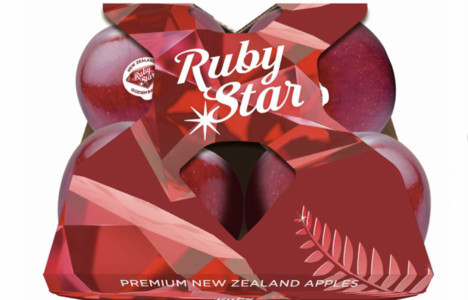 GBF marketing consultant, Eleni Hogg, said the company is also adding the New Zealand FernMark to its packaging this year, after becoming an official licensee of the programme.
"This makes GBF an ambassador for the New Zealand story and is a fabulous way to reassure our customers of the New Zealand origin that makes our fruit so special."
Cherish campaign underway
GBF got its 2021 campaign underway this week with a shipment of Cherish apples. The consignment departed Nelson bound for China, with exports to South-East Asian markets to follow over coming weeks.
"Cherish has become popular in major South-East Asian markets and Greater China for its candy-pink colour over a creamy yellow background making it one of the prettiest apples around," GBF said in a media release.
"The naturally medium to large size of Cherish, combined with its attractive colouring and positioning, has made it a popular apple for gifting."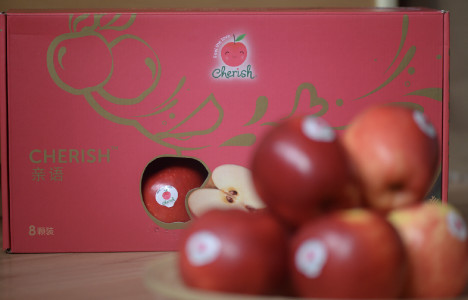 GBF said Cherish was particularly popular in premium online and offline retailers in China last year, on the back of a new marketing push.
"Consumers responded well to the 'Cherish gifting moment' campaign to share the love during traditional Chinese festivals with the custom Cherish giftbox," the release added. "GBF will continue to promote Cherish in Asia this year."