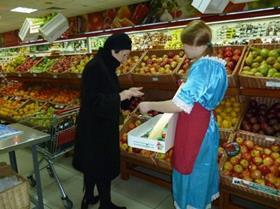 Recent economic research at the World Bank shows that the Russian Far East (RFE) would likely be one of the three regions in Russia to gain the most from WTO accession, and this is due largely to the potential investments in transport and services, Katerina Akulenko, director of produce consultancy New Marketing LLC*, Vladivostok told Fruitnet.com.
Akulenko said size of the potential gain is significant: RFE could raise its total produce consumption and GDP per capita by about 10 per cent and international exports by 11 per cent a few years after the WTO accession.
As a result, Vladivostok-based fruit importers, who supply the wider RFE region, are looking to the future with great hope, she said. Some have poured money into developing their businesses, building modern storages and increasing their portfolio of fruits.
"The average range of fruits available includes apples, pears, table grapes, citrus, bananas, pineapples, pomegranates, kiwifruits and cherries," Akulenko said. "But thanks to a recently-built airport terminal in Vladivostok, importers and retailers are looking forward to receiving air-freighted shipments of highly-perishable fruits, such as berries in the future.
"Last year, retailers received regular shipments of South Korean strawberries in limited quantities by air," she added. "And there have been attempts by the retailers to receive perishables directly, such as berries and stonefruits, from nearby South Korea and Japan by air."
For a full report, see the June 2012 edition of Asiafruit.
*New Marketing LLC is a consulting company located in Vladivostok offering professional services to companies pursuing market development in the territory of Russian Federation.For more information contact Katerina Akulenko, katerina@newmark.ru