The Dutch vegetable seed breeder hosted a seminar prior to last month's Asia Fruit Logistica in Hong Kong, in order to explore the challenges and opportunities for the hydroponic leafy segment across Asia
On the eve of this year's Asia Fruit Logistica exhibition in Hong Kong, Dutch vegetable seed breeder Rijk Zwaan held a seminar for its regional customers focused on the company's ever-expanding range of hydroponic leafies and the opportunities it sees in many burgeoning Asian markets.
Bauke van Lenteren, Rijk Zwaan's marketing specialist for leafies and convenience, spoke of how outdoor growing was under pressure from pests and diseases, even in the US's Salinas Valley, the so-called "salad bowl of the world", encouraging more and more growers to take their production indoors.
"We all know the global developments happening right now," she said. "Some people have too much water, some people don't have enough; some people have increased heat during the summer, some do not. In the Netherlands, for example, we had a very dark spring this year, so we needed artificial lighting well into the summer period. So there are also lots of local developments that are triggering the move towards indoor farming."
Bauke said that within Europe salad preferences varied greatly from country to country, as well as from region to region, necessitating a highly tailored breeding programme. The same approach, she said, was of course essential for a much larger continent like Asia.
"The numbers in Asia are dazzling," added Friso Klok, area manager for Asia. "Consumer demand for salads is increasing, and there's also technology pushing the market. So I really believe we are at the beginning of a salad eating culture in Asia. We want to drive the development of the sector and help create support models for the whole chain."
The influence of technology
In a panel focused on greenhouse technology, Manuel Madani of Priva, Rani Bassil of Klasmann-Deilmann, Kurt Cornelissen of Hortiplan and Craig D'Souza of Philips Horticulture LED Solutions provided advice for growers starting up in hydroponics.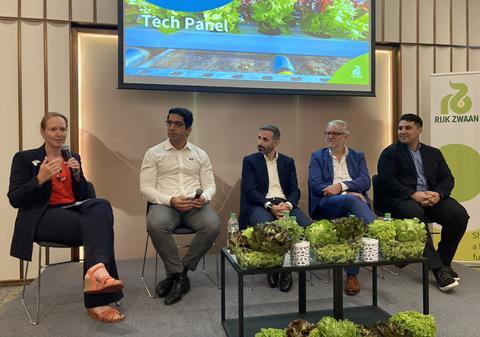 "Engage a lighting specialist," counselled D'Souza. "They can optimise the lighting so you can have a controlled amount, which is important because sometimes reducing the light level actually increases efficiency."
"Asia is still a young market," noted Bassil, "and not up to the standard of Europe in terms of growing media. It is so important to have a healthy root system and that means having proper, high-quality growing media. At the same time the market needs more sustainable products, so we are working on solutions."
"Other continents are more mature, with higher tech greenhouses and growing systems," added Cornelissen. "In Asia, it's still medium tech, and most production is in areas with a moderate climate. However, in the future you will see more production moving closer to the big cities where growing conditions may be more challenging."
Madani told the audience that it was important to make the right investments and to aim to continuously learn and improve. "It's a marathon, not a sprint," he concluded.
"Growers should focus on their produce," resumed Cornelissen. "What does the customer want in terms of lettuce type and volume and what are the costs of production? It's a low margin product, so it's all about operational excellence, so having the right people and local knowledge is crucial."
What does the consumer want?
A second panel focused on the retail side of the hydroponic leafy sector in Asia. Yoon Chyi Fong of DFI Retail Group in Singapore revealed that leafy vegetables were an important product category in the country. "We want to push salads in our stores and educate our customers on hydroponics," she said.
Willem Landman of Aquagreen, the leading hydroponics company in Hong Kong, said it was important to constantly bring in new ideas and new products. "We are the leader in Hong Kong, but it is crucial not to get complacent," he said. "Hong Kong is a fast-changing market so if you can't do something in three months, don't even bother trying."
"Singapore is promoting local produce," said Fong, "and a lot of that is hydroponic. In Singapore, freshness and quality come before cost. Customers are willing to spend money on salads."
Indeed, according to van Lenteren, in Europe and the US salads are very much a weekly staple regardless of the price. "There's definitely a lot of pressure on consumer spending on food at the moment," she said. "When salads get more expensive, there's a bit of down-trading to types like Romaine or iceberg, but people will still pick up that bag or head of lettuce."
Varija Khanna, deputy general manager of Indian company Nutrifresh said India continued to be very price-conscious, with consumers checking the price before quality.
"There are a lot of vegetarians in India," she said. "We are pairing vegetables and salads, and educating people on how to prepare a salad and combine different flavours. But where the product is sold and at what price is crucial."
According to Fong, many people in Asia don't like salads because they are cold, especially in China. "People prefer their vegetables cooked," she said. "It's important to choose products that are easier to introduce to consumers. Stressing the convenience side of mixed salads, for example, appears to be a good way of increasing sales in this region."
Importance of convenience
When it comes to mixed bags of salad, according to van Lenteren, it all boils down to local consumer preference. "You want to talk with your customer and figure out the true specifications you need," she said. "These are your key parameters that you also want to steer your hydroponic system on - is it quality, shelf-life, colour? Is it yield? Consumer experience? In the end, the question is, what does the consumer want? We can offer all these great varieties and we can talk about how to grow them, but what does the final consumer actually want?"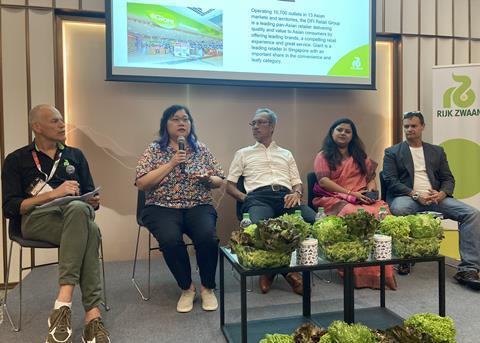 The choice of packaging was also crucial for salad bags, she said, with resealable bags able to significantly reduce waste in many markets. Another way was to seek out Rijk Zwaan lettuce varieties that benefit from the Knox trait, added van Lenteren, an example of the company's efforts to support both sustainable production and consumption. The Knox trait delays pinking after cutting, which serves to extend the shelf-life of fresh-cut lettuce by at least two days.
Robin Yau, director of sales and marketing for Malaysia-based Champ Fungi, which markets a range of vegetables and salads across South-East Asia under the Live Well brand, said the company expects to see good growth in value added products that incorporate leafies.
"We initially started with washed, ready-to-eat leaves before adding value with extras like dressing, nuts and cheese," he said. "Last year, we started providing full meals, and we now offer wraps and burgers, which also include a variety of leafies. We believe these will be our growth products for the future."