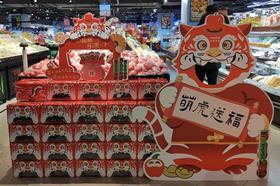 Rockit Global has developed a dual-purpose gift box to market its proprietary apple offering over Chinese New Year.
Snack-sized Rockit apples will be packed into 100,000 gift boxes for the discerning Chinese retail market in the lead-up to the celebration (1 February).
The box, designed in shades of red and orange to celebrate 2022's Year of the Tiger, has been cleverly constructed to double as a costume for children.
The roll out of the gift box has been supported by in-store activations and giveaways, which have incorporated traditional door banners, masks, stickers and gift envelopes.
Rockit Global's general manager global marketing, Julian Smith, said the campaign was capturing consumer attention in China.
"In true Rockit style we've done things differently, with the cardboard box itself transforming into an interpretation of a tiger's head," Smith said. "It's a great way for families to tackle a holiday project together and to ignite kids' imaginations."
Smith said demand for Rockit apples is growing across China, particularly among young, upwardly mobile, conscientious parents.
"These consumers want the very best nutritional experience for their children, without compromising on flavour," said Smith. "Rockit apples are incredibly popular within this set – they're sweet, crunchy and snack-sized, delivering a big hit of natural energy, fibre and nutrients."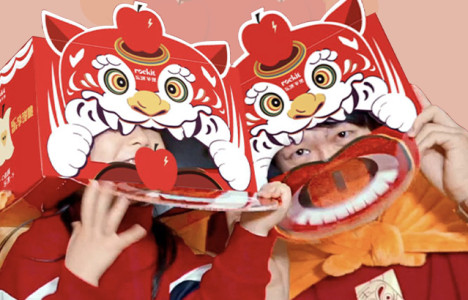 Creating healthier gifting options has been part of Rockit Global's strategy in China for several years, with the company drawing on the reach of digital and social media channels to tell its brand story.
"As our Chinese New Year activity ramps up, we're expecting high volumes of traffic through to our flagship store on Tmall – an e-commerce platform where customers can buy our range – as well as engaging, shareable content from the local community of macro and micro influencers (KOLs and KOCs) we partner with in China," Smith said.
"Chinese New Year is another exciting opportunity for our innovative New Zealand-based company to take our product to the world – housed in eye-catching gift boxes that stand out from the crowd and are so much fun."
Taking off in the Middle East
Demand for Rockit is also growing in the Middle East. To capitalise on this rising interest, Rockit Global will exhibit at Gulfood, a food and beverage expo being held in Dubai.
"We're excited to be showcasing Rockit alongside some of the world's biggest F&B brands to help continue our strong growth trajectory in one of our key markets," said Mark Pay, Rockit Global's general manager global sales.
Pay said Rockit Global is preparing for a deeper push into the Middle East region.
"Rockit apples can be found in a number of outlets where commodity apples traditionally are not sold – for example airports, convenience stores and coffee shops," he explained.
"We'll continue expanding our distribution through strong relationships with retailers, and we are very excited to share our story with thousands of future fans and customers at Gulfood."