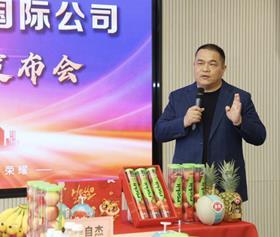 Leading Chinese fruit company GoodfarmerGroup has entered a strategic cooperation agreement with Rockit Global, the New Zealand-based company behind the snack-sized Rockit apple.
The agreement was signed during a meeting at Goodfarmer's headquarters in Shanghai earlier this week.
The pair will work together to grow awareness and demand for Rockit apples in China.
"Rockit apples meet the selection standards of Goodfarmer, from planting to large-scale production, and the consumption scenarios are also very promising," said Zhang Jingzhen, general manager of Goodfarmer's fruit division.
"Goodfarmer will rely on its distribution system to deliver Rockit apples to consumers so they can enjoy the natural taste of the apple at close range. We can jointly create brand productswith high-end quality."
Dai Yue, Rockit Global's country manager for China, said the Rockit brand was gaining traction in China.
"Rockit apples were first exported to China from New Zealand in 2015 and the market awareness has increased rapidly in the past two years," Dai explained.
"We are cooperating strategically with Goodfarmer because we value its strong national sales network, as well as its strict requirements for product quality and brand. We hope to further open up the Chinese market with the help of Goodfarmer's strong national sales channels."