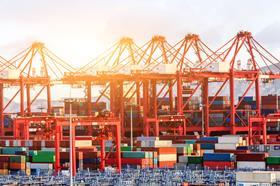 Shanghai has entered a city-wide lockdown to combat a new Covid-19 outbreak with measures set to disrupt the supply chains around one of China's major trade hubs.
China's most populous city began a two-stage, nine-day lockdown on 28 March. All port and airfreight operations in Shanghai have remained operational according to an advisory from Maersk. However, warehouse closures and interruption to inland transport services are expected to create supply chain disruption and push up costs.
'Trucking service in/out Shanghai will be severely impacted by 30 per cent due to a full lockdown on Shanghai's Pudong and Puxi areas in turn until 5 April, Consequently, there will be longer delivery time and a possible rise in transport costs such as detour fee and highway fee,' said Maersk.
"All the warehouses in Shanghai will remain closed from 28 March to 1 April. Air operations in Shanghai for existing cargo in warehouses stay normal. However, new cargo acceptance will be impacted due to the first mile delivery and labour resource constraints."