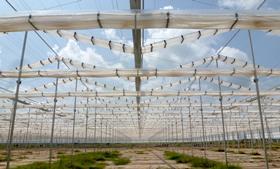 Simply Fresh has announced a new US$30m investment headlined by retractable roof greenhouses, which will allow the company to supply fresh produce for 12 months of the year.
Construction of phase one of the project is well underway inSiddipet near Hyderabad. This phase includes 8.8ha of greenhouses and a state-of-the-art packhouse.
This facility will produce vegetable crops such as tomato, capsicum, cucumber and lettuce as well asnutraceutical cropslike turmeric, ginger.Subsequent expansion will then allow for the production of berry crops like strawberries and blueberries.
Once completed the entire project will cover include approximately 32ha of greenhouses and the crops will be produced under one brand. All of the vegetables and berries will be fully traceable with each package labelled with a QR code that customers can scan to know the precise origin and journey of the produce.
All of the greenhouses constructed areCravo retractable peaked roof greenhouseswith secondary retractable cooling curtains underneath and all of the equipment will be controlled by an artificial intelligence based computer system, which has been specially designed to control retractable roofs.

In addition to the production greenhouses, a research and development lab, a tissue culture lab and automated nursery are also being constructed.