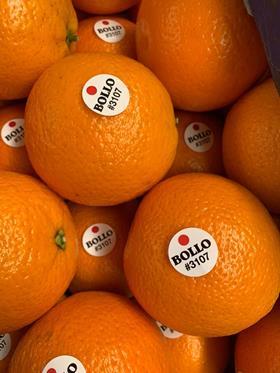 Spain has sent 11 containers of citrus to India in a trial shipment that will see the fruit subject to in-transit cold treatment (ITCT).
The shipment of an estimated 242 tonnes of Spanish-grown Valencia oranges was loaded at the facilities in Castellón. From there, it was shipped to the Port of Valencia before making the journey to the port of Nhava Sheva in Mumbai, India.
A joint initiative promoted, led and coordinated by the Citrus Management Committee (CGC) of Spain has also involved 10 operators, which have reportedly received financial assistance from the Valencian regional government's Department of Agriculture.
Inma Sanfeliu, president of the CGC, said India was a difficult destination to access, but offered a potential way to reduce dependence on the European market.
'If this mission is successful and the protocol is ratified in these terms, we will be able to open a distant market where the conditions are still very difficult," said Sanfeliu.
"However, given its demographic potential and its rapid economic development, India could become a valid alternative for foreign trade with which to reduce our dependence on the European Union (EU)."
Previous groundwork by Valencia's Ministry of Agriculture, including conversations and technical negotiation with the Agricultural Council of New Delhi made it possible to authorise an experimental shipment in viable conditions, replacing the previously required cold treatment pre-shipment to ITCT.
Head of procurement at leading Indian importer IG International, Shubha Rawal, said the trial is of significant interest to many importers in India.
"If this is successfully accomplished then it will not only improve the quality of the product at the arrival but also save two weeks of shipping time, and of course the extra costs," outlined Rawal.
"As soon as we heard about the order, we planned the shipments for the trial. Although there is not a great volume of citrus arriving this time, due to the higher costs and the logistics involved in managing the cold treatment, the opening of a huge market like India for Spain is significant.
"IG will be handling 9 out of 11 containers in this trial. As per our previous experience with Spanish citrus, Indian consumers have shown a great interest in the product because of its taste and quality which is different from other origins," noted Rawal.
Sanfeliu said finding space for Spanish oranges in the Indian market will be challenging, given Egypt's domination of the market.
"Egypt is a direct competitor and already has a share of over 60 per cent in the market, as well as a privileged position thanks to its much lower prices," said Sanfeliu.
To a lesser extent, already in the off-season, the market is also taken by South Africa, which also has much lower costs,'
'In the medium term, or even in specific campaigns, India has the potential to be a great destination, because Spanish oranges enjoy a great reputation, and we have the necessary know-how.'