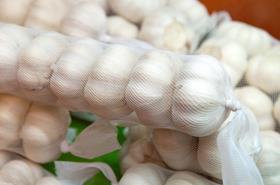 Chinese garlic prices have rocketed this year and product is in short supply as wealthy investors in China stockpile bulbs, reports theFinancial Times (FT).
China's garlic prices have almost doubled over the last 12 months due to poor weather and a surge of interest from speculative buyers, leaving international importers struggling to source volumes, the newspaper said.
China accounts for more than 80 per cent of the world's garlic exports.
"I've just come back from China and you can't buy [any garlic] now," Joey Dean of Denimpex, a fruit and vegetable trader in Amsterdam, told the FT. "Big speculators with big amounts of money have bought quite a lot of volume."
Garlic prices began to rise towards the end of 2015 after heavy rains, then snow, damaged the Chinese crop planted for the 2016 harvest, the report said. The jump attracted speculative buying, fanning the upward surge, according to analysts.
Garlic is predominantly grown in Shandong, an eastern province in China. Expectations of poor harvests have previously led to hoarding by locals, but money from Beijing and other large cities is now flowing into the market, according to Cui Xiaona, analyst at Sublime China Information Group, a commodity information service.
"This year many people knew that the garlic harvest was poor, so they thought, 'well, I make money out of the price difference'. So many rushed to stock up on garlic," she told the FT.
Efforts by Chinese authorities to stabilise the country's stock market by imposing curbs on equities trading last year has resulted money flowing instead into a wide range of commodities, the report said.
p.p1 {margin: 0.0px 0.0px 14.0px 0.0px; font: 14.0px Tahoma}span.s1 {text-decoration: underline ; color: #4787ff}