Asiafruit Congress Statistics Handbook 2023 provides expert analysis of key trends in trade across 12 different Asian markets
Asia's total fresh fruit imports declined in 2022 on the back of lower volumes from key origins as suppliers struggled to keep pace with market demand.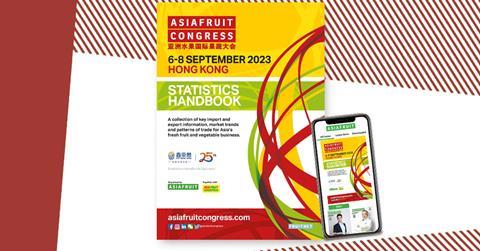 That is one of the headline trends in Asia's fresh produce trade highlighted in the Asiafruit Congress Statistics Handbook 2023.
Published by Asiafruit Magazine, the annual statistical guide to Asia's fresh fruit and vegetable trade was launched at Asiafruit Congress and Asia Fruit Logistica on 6-8 September 2023 in Hong Kong.
Asian markets imported 14.9m tonnes of fresh fruit from all origins in 2022, marking a 6 per cent decline on the previous year, according to analysis in the Asiafruit Congress Statistics Handbook 2023.
Intra-Asian trade dropped by around 8 per cent to 10.2m tonnes and accounted for almost 70 per cent of Asia's total import trade. The intra-Asia trade is driven by demand for temperate fruit from the warm-climate South-East Asia markets, and for tropical fruit, including bananas, longans and dragon fruit, from North Asian markets.
China is Asia's largest importer and exporter of fresh fruit, and it continues to have a major influence on the overall trade landscape. Imports were marginally higher in 2022 – at almost 5.8m tonnes – mostly comprising of tropical fruit and counter-seasonal temperate fruit from the Southern Hemisphere. China's exports dropped by 8 per cent year-on-year to around 3m tonnes, with a notable decline in apple and pear exports.
In terms of global fruit supplies to Asia, imports increased in some trade lanes and declined in others.
Trade from Southern Africa lifted 7 per cent to 810,689 tonnes, driven by growth in citrus and grape shipments to India, China, and South-East Asia.
Imports to Asia from the Middle East and North Africa region grew 21 per cent, fuelled by Egyptian citrus and increased shipments from Turkey and Iran, particularly into India.
South American exports to Asia remained steady at just over 1m tonnes, which included almost 400,000 tonnes of Chilean cherry exports to China and other markets. Australia and New Zealand saw a 3 per cent decline in exports to 982,352 tonnes, mainly comprising of kiwifruit, apples, citrus and grapes.
Imports from the US and Canada declined 19 per cent to 605,963 tonnes, reflecting adverse weather and logistics challenges for cherries, citrus, and stonefruit. Similarly, bananas from Central America dropped over 17 per cent as China imported more bananas from South-East Asian suppliers.
Key markets in South-East Asia saw imports decline, reflecting a downturn in apple and pear shipments from China. While Thailand's fruit imports remained steady at 601,459 tonnes, Indonesia's dropped by 6 per cent to 666,001 tonnes and the Philippines saw a 30 per cent decline to 348,860 tonnes.
Vietnam's imports edged up by 2 per cent to 1.22m tonnes, with apple imports increasing 16 per cent, driven by strong growth for South Africa and New Zealand. Vietnam's fresh fruit exports also increased 2 per cent to 1.26m tonnes, aided by a 38 per cent increase in banana exports, which mostly went to China.
India's fresh fruit imports fell by 9 per cent to 656,127 tonnes, after doubling in 2021, thus remaining well above pre-2020 levels.
Access a free digital copy of Asiafruit Congress Statistics Handbook on the Asiafruit app.