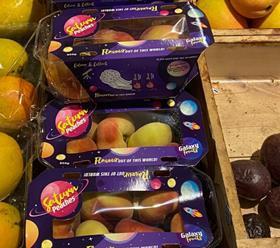 Australian and Malaysian consumers have welcomed LPG Cutri Fruit Global's newly launched flat peach, branded as Galaxy Fruit.
In its first season on Australian shelves, LPG's executive general manager citrus, international sales, Frank Frappa said the fruit was well received, paying tribute to the promotional angle taken.
"The marketing campaign, along with new packaging, was designed to bring fun to fruit for children, while educating them on the galaxy, healthy eating, and Australian farming," explained Frappa.
"This was the first branded package of its kind to hit the retail shelf in key markets, as generally produce is supplied in loose format. It was well received internationally and domestically."
Poor weather conditions limited volume, with fruit supplied to the Australian domestic market and Malaysia. However, Frappa remained upbeat for what lies ahead.
"Overall, the marketing campaign reached 530,000 people, social media following increased by 5,000 per cent and website traffic increased by 166.3 per cent in December," he noted.
"The second year will see the investment of additional awareness and engagement generating marketing activities."