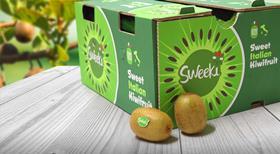 Origine Group is ramping up its presence in China with its Sweeki kiwifruit brand.
The Italian-Chilean consortium has recently partnered with Walmart Chinato supply 400 stores nationwide. Customers can also purchase Sweeki kiwifruit through the retail chain's online platforms.
To mark the launch, Sweeki promotional events will be held in multiple Walmart stores over the coming weeks, including product samplings to let Chinese customers experience the unique taste of Sweeki kiwifruit.
To facilitate a year-round sales programme, Origine Group will supply fruit from both Italy and Southern Chile.
"Given the collaboration with Sweeki, Walmart is able to employ simple and efficient procedures for harvesting and shipping, which will ensure freshness and quality while maintaining cost effectiveness, enabling Chinese customers to spend less while enjoying higher-quality kiwifruit via the Walmart Chinaomnichannel," Origine Group said in a release.
The Sweeki brand was established by Origine Group in 2015, with a primary focus on exporting to Asian markets. The group is made up of nine Italian and Chilean fresh produce companies, whose combined annual turnover exceeds US$1.2bn.