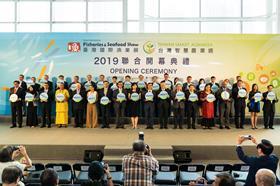 There was no shortage of opportunities to be taken at the 2019 Taiwan Smart Agriweek, held from 26 to 28 of September at the Kaohsiung Exhibition Centre.
The exhibition featured 175 exhibitors from Taiwan and overseas and host MY Exhibition, and its parent company Wes Expo, said thousands of visitors made their way through the doors.
The exhibition had four major areas focusing on fruit and vegetables, agriculture technology, cold chain and distribution and flowers. It also created a special zone for youth farmers, with 100 youth farmers in attendance to showcase the diversity of Taiwan's agricultural development and competitive advantages.
Irene Liu, general manager of My Exhibition, said the exhibition was an excellent platform to share the things that Taiwan does well.
"In Taiwan, we are a very small island and we have limited land. So, we bring a lot of good technology to the Asian region," Liu explained.
"By using our platform, we hope we can attract more and more people to come to Taiwan and to look at this high-end technology."
"They can also see how with our limited land we produce our high-quality fruit and this is what we want to export."
Liu said there had been clear interest what exhibitors had to offer with over 300 international buyers visiting the show and around 550 matchmaking meeting organised between exhibitors and buyers.
Notable buyers included retailers from mainland China, Malaysia, Hong Kong and Singapore.