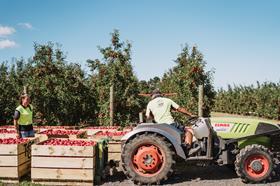 T&G Global has begun harvesting and shipping the first of this season's New Zealand apple crop, with plans to pick more than 6.5m (18kg) cartons, which equates to over 120,000 tonnes.
Craig Betty, director of operations for T&G Global, said quality is looking good across all varieties this season, with fruit generally sizing well.
"For our premium Jazz and Envy brands, we're seeing good quality and fruit size better than 2021," said Betty.
"With hot and humid weather for early harvest in the Hawke's Bay, striking the right conditions to develop good foreground colour has been challenging, but the recent change of weather should see this improve.
"In the South Island, we've seen higher than usual rainfall in spring, followed by warm summer temperatures which should see a full crop and improved sizing on 2021."
T&G's early-season apple, Poppi, is the company's first variety to be harvested in February, followed by Royal Gala, Jazz and Envy over the coming months.
"Thanks to its early ripening qualities, Poppi is one of the first New Zealand apple brands of the season to arrive in our highly competitive Asian markets," said Betty.
Labour and logistics challenges loom large for the New Zealand apple season, and T&G said it is taking a proactive approach to managing the issues as best it can.
"Without a doubt it's going to be a tough season given New Zealand's tight labour market, the absence of working holiday visa workers, continuing global supply chain challenges, and the ongoing impact of Covid-19 across the country and globe," Betty explained.
"Across the country, we're recruiting extensively to bring in much needed additional team members to help minimise the shortages we're facing.
"We have business continuity plans in place across our supply chain and are continually monitoring the situation so we can move quickly to navigate and minimise the challenges which may come our way.'