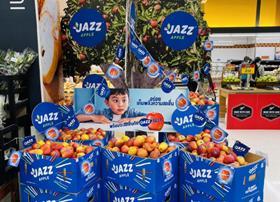 T&G Global has launched a global marketing campaign for Jazz apples.
The move follows a recent brand refresh for the premium apple offering.
Incorporating the new motto 'Is it Jazz time yet?', the marketing campaign is aimed at driving brand awareness and positioning Jazz as "the ideal snack on the go", according to T&G Global's head of marketing Rebecca Chapman.
"With more people looking for healthier snacking choices, we're promoting the fact that Jazz apples fulfils this need," Chapman explained.
"Thanks to their perfect snack-size, tangy-sweet balanced flavours, juicy crunch and source of nutrients, Jazz is the ideal always refreshing snack."
The fully integrated campaign includes point of sale and packaging promotions, along with out-of-home, print, digital and social media advertising.
It has been launched in several key markets including the US, Germany, Belgium, Netherlands, UAE, Thailand, Vietnam and New Zealand.
Chapman said the campaign has been designed to have a consistent global look, with language translations to connect with consumers in each market.
T&G Global sold 5m cartons, or roughly106,000tonnes, of Jazz apples internationally in 2020.