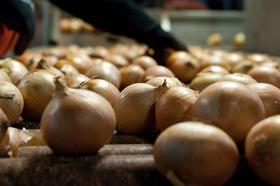 The value of Tasmania's onion exports in the first half of 2019 has already passed the total for all of 2018, with Europe and Indonesia arising as two key markets.
In the period between January and June 2019, Tasmania exported 22,200 tonnes of onions valued at A$18.5m (US$12.7m). This far surpasses the 12,700 tonnes, valued at A$9m (US$6.2m), it exported in all of 2018.
This success has been attributed to the Australian federal government's Programme Assisting Small Exporters (Pase) and the efforts of Tasmanian exporters to meet the strong European demand.
Plus, in 2018 the Tasmanian Fruit and Vegetable Export Facilitation Group (TFVEFG) received a Pase grant to explore new niche markets such as Indonesia, after onion exports plunged in 2017.
As a result, exports to Indonesia have increased from 190 tonnes in 2018 to 830 tonnes in the first six months of 2019. Meanwhile, exports to Europe increased from 6,700 tonnes to 15,000 tonnes over the same time period.
Ian Locke, facilitator of TFVEFG, said Tasmania's onion industry had worked hard to recover after a combination of European Union market changes, a strong Australian dollar and a focus on Asian markets has seen exports drop from a 44,000 tonnes peak in 2013 to 14,000 tonnes in 2017.
"Our onion exports were spiralling down, and strong, focused measures were needed to rebuild valuable markets and develop new ones," Locke said.
"We worked hard to secure Pase funding which has resulted in increased exports, higher margins and the added benefit of wealth creation for Tasmania.
"The funding has been leveraged to work collaboratively with onion growers to break into Indonesia which has enormous potential. It has also been the key to the resurgence of our vital European market."
However, this good news has been somewhat tempered by poor results in two other important markets.
"In the first half of this year Australian onion exports to Japan fell by 30 per cent, while those to the Middle East dropped by 25 per cent," Locke added.
"These markets have always been strong destinations for Tasmania's premium onions and it's important we don't see any further reductions in exports. They should be reviewed in a similar manner to the Pase project undertaken in Europe and Indonesia."