Year-long fruit festival to drive domestic fruit consumption in attempt to offset export struggles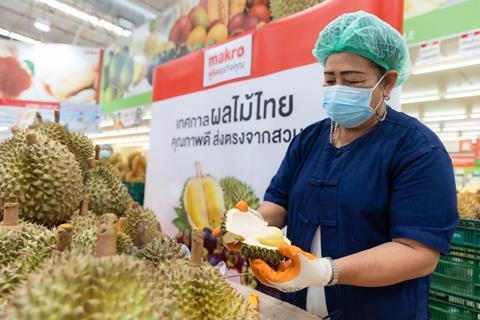 The Ministry of Commerce of Thailand has launched a new domestic promotional campaign to help fruit exporters find new outlets for their produce and overcome disruption.
According to a report from the Bangkok Post, Thai fruit exporters have been severely affected by intermittent closures of China's border checkpoints, the industry's largest market.
The Ministry has launched a year-long festival of fruit in response, aiming to boost domestic consumption. The festival will run from May to December through over 10,000 points of sale across the country.
Commerce Minister Jurin Laksanawisit said the Ministry expected the camping to drive the sale of 145,000 tonnes of fruit worth Bt12.5bn (US$361m).
The export challenges faced by the Thai fruit industry have been exacerbated by increasing production volumes. In 2022, Thai fruit production is expected to increase by 11 per cent from 2021 to 5.36m tonnes. Durian production is forecast to rise 26.2 per cent to 1.48m tonnes, mangosteen production is set to rise 43 per cent to 388,000 tonnes and longan production is expected to rise 8 per cent to 1.69m tonnes.
Traditionally, 70 per cent of Thai fruit production is exported, highlighting the need for an increase in domestic consumption.
Siam Makro is among the retailer that will be involved in the campaign and will allow durian growers to sell their produce directly to consumers in 135 of its stores.
Siriporn Dechsingha, chief corporate communication officer of Siam Makro, said the retailer expects to buy 1,500 tonnes of durian this year, almost five times as much as 2021.
She said Siam Makro will also aim to purchase 8,000 tonnes of other Thai fruits to help growers offload their product and deliver consumers good, quality Thai fruit at an affordable price.