Government department partners with retailers to promote domestic sales as Thai fruit production rises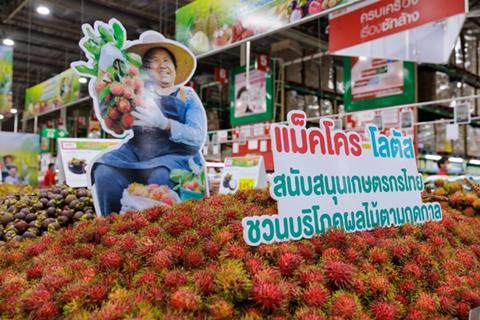 Internal Trade Department under Thailand's Commerce Ministry has teamed up with retailers to boost fruit sales and support the country's growers.
Wattanasak Sur-iam, director-general of the Internal Trade Department, met with representatives of Siam Makro to highlight the promotions being run under the company's Makro cash and carry stores and Lotus's hypermarkets.
The department is set to work with these retailers and more to proactively manage the distribution of Thai fruits across the upcoming seasonal peak.
According to a report from the Bangkok Post, Sur-iam said Thai fruit production is set to increase 3 per cent year-on-year from 2022 with production of durian (18 per cent), mangosteen (32 per cent), longan (1 per cent) and rambutan (7 per cent) all set to rise.
Siam Makro has committed to purchase more than 54,000 tonnes of fruit this year which will be distributed across 2,800 stores and is expected to generate more than Tbt 2.2bn (US$64m) of income for growers.
Somnuk Yoddumnern, director of commercial fresh food at Makro, said 36,000 tonnes of the total will be distributed across Makro stores, a 20 per cent increase from 2022. The fruit will be promoted under an Amazing Thai Taste campaign running from April to August, designed to help stimulate consumption.
Jiraporn Laoharattanaviboon, category director of fresh food at Lotus's said Lotus's will purchase 18,000 tonnes of fruit – a 20 per cent year-on-year increase – as part of the efforts to help generate a sustainable income for Thai growers.