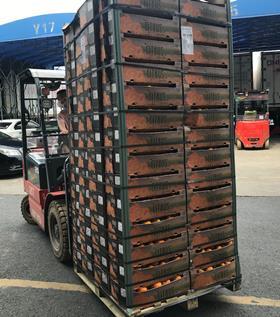 Movement of imported fruits is continuing to recover from the Covid-19 crisis at Shanghai Huizhan Wholesale Market, a key hub for China's fresh fruit import trade, according to general manager of Shanghai Huizhan International Trade Co, Alex Gong.

Importers at Huizhan Market also reported improved sales, with citrus from Australia and South Africa leading the way.

Miri Liu, procurement manager of Shanghai Sunfruits Co, told Fruitnet that Australian citrus had performed well on price the past two months, with oranges selling for Yn360-420 (US$50-60) per carton. An increase in arrivals from South Africa over the past few weeks has slowed sales of Australian product, with South Africa enjoying stronger movement, she added.

South African oranges have been wholesaling for Yn250-310 (US$36-44.63) per carton, a marked increase on prices during this period last year, when they were around Yn150-180 (US$21-26) per carton.

Among other in-season fruits, Washington cherries were selling at reasonable levels, while Gong said Turkish cherries were no longer on the market following the suspension of imports due to findings of pests by customs.

Peruvian avocados have performed poorly, importers said, citing oversupply and some quality out-turn issues with spots on the surface of the fruit.

Zespri is dominating the kiwifruit market, with sales movement reported to be okay, but kiwifruit from other origins has been struggling, market sources added.

Looking to the upcoming Northern Hemisphere apple and pear import campaign, importers told Fruitnet that sales would depend on the size and quality of China's domestic apple crop this year.

Imports of western pears remain challenging as Chinese consumer habits and expectations are shaped by Asian pears, which are a very different product, according to Andy Xie, founder of Shanghai E Fresh Trading Co.

"Chinese people are used to eating Asian pears which are juicy and crunchy, but most western pear varieties need to ripen before they're ready to eat. In the meantime, the pear becomes softer, fragrant and sweet and that does not suit our eating habits," he said.

Xie singled out Dutch Conference pears as an exception that have scored success amid this challenge. "They've done a good job on promotion, and their major consumer groups are children and the older demographic," he said.