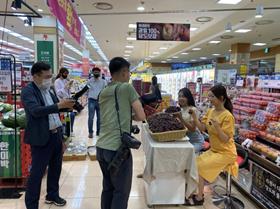 Turkish cherries are selling on South Korean retail shelves following the opening of the market last year.
Major producer-exporter Ana Fruit reported the successful arrival of its first commercial shipment of cherries in Korea last week, with fruit debuting on the shelves of Lotte Mart and other key retailers.

"We processed our first commercial shipment on 25 July after a sample shipment on 18 July," said Ana Fruit's marketing and sales manager, Yahya Erdogan. "The fruit is now selling on retail shelves in Korea and the arrival of Turkish cherries has attracted coverage from local media."

Korea opened its doors to Turkish cherries last year under a fairly challenging phytosanitary protocol, and Erdogan said the company's milestone exports were achieved despite further difficulties created by Covid-19.

Under the protocol, Turkish cherry exports to Korea must come from commercial orchards, while orchards and packhouses, including fumigation facilities, have to be registered for the programme. Fruit must undergo fumigation prior to shipment following detailed procedures, Erdogan told Fruitnet.

"The key challenge we faced supplying Korea this year was delays with bringing Korean inspectors over to Turkey due to Covid-19," he explained. "We've only been able to start shipping in the last weeks of the season due to uncertainty over when the inspectors could get here.
"We airfreight our cherries directly to Seoul but we also faced some capacity constraints following the decrease in services because of the pandemic."

Erdogan said the debut shipments were well received. "Our cherries have been promoted in many Korean supermarkets, including Lotte Mart, which is proud to bring Turkish cherries to Korean consumers," he noted.

Korean online portal Naver reported that Turkish cherries were retailing from 30 July in Lotte Mart for Won9,980 (US$8.35) per 500g pack.
Competing for market share
While the Turkish cherry season is winding down, Ana Fruit hopes to make another three or four shipments this year, and Erdogan says the company expects to ramp up the programme in the future.

"We'll be targeted volumes of around 1,500-2,000 tonnes in years to come if everything goes well," he said. "As the feedback from the Korean market is good in terms of quality, we presume Turkish cherries will be competing with US and Chilean cherries in the next few years."

Korea imported 14,873 tonnes of cherries in the 12 months to March 2019/20, a drop of 22 per cent year-on-year, according to Fresh Intelligence analysis of ITC Trademap data. The downturn reflected a decrease in 2019 shipments from the US, which is the dominant supplier, accounting for 77 per cent (11,508 tonnes) of imports in the 12-month period. Chile was the other key supplier, shipping 3,175 tonnes, which represented a market share of 21 per cent. Turkish cherries are expected to compete with the US as the timing of their seasons is similar.

Turkish cherry exports are dominated by the Ziraat 0900 variety, also known as Turkish Napoleon. Erdogan said the variety meets the requirements of global markets, with good firmness and texture.
Ana Fruit, which has its own cherry orchards as well as sourcing from selected growers across Turkey's growing areas, exports to a range of global markets. "We export to almost all Asian countries, including Hong Kong, China, Singapore, Malaysia and Indonesia, as well as to the Middle East, South Africa and Europe," said Erdogan.

Turkey ranks as the world's third largest cherry exporter after Chile and the US, shipping 80,543 tonnes worth more than US$182m in the 12 months to March 2020, according to Fresh Intelligence analysis. The majority of Turkey's exports are shipped to Russia, Europe and neighbouring Iraq. Asia accounted for around 2,500 tonnes in 2019/20, with the newly opened China market, Hong Kong and Singapore making up the key destinations.

Read more on the current Turkish cherry season and latest news from other key cherry supplying countries in the upcoming July-August edition of Asiafruit.
Asiafruit is now available to read on your phone or tablet via our new app. Download it today via the App Store or Google Play and receive a two-week free trial along with access to previous editions.