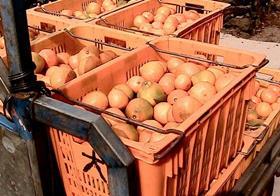 Article updated 16:00 UK time.
Mandarins produced in the South Korean island province of Jeju could be shipped to Germany in the near future, after 'significant progress' was reportedly made in talks between a leading German importer and officials and exporters from the Asian country.
According to a news article on the Korean news website Media Jeju, a seven-strong delegation of officials and exporters from Jeju recently visited leading European fresh produce company Univeg Deutschland on a fact-finding mission.
In Germany, they discussed the potential for future collaboration in terms of developing a new import programme for the province's mandarins, known as Unshu oranges, in Europe.
The article quoted Jeju officials as saying that the fruit could in theory set sail in October and therefore be in the market before Christmas.
Since late 2009, Jeju has been successfully exporting Unshu oranges to the UK, the first EU market to accept imported citrus from Korea.
As revealed in the Jeju Weekly last year, a research team at Jeju National University reported that a successful trial shipment of mandarins sent via UK-based specialist citrus importer Fesa was followed by the arrival in late December 2009 of the first consignment of around 20 tonnes of the fruit.
Volcanic value
The volcanic island, which was once referred to by Dutch explorers as Quelpart – literally 'orange orchards' – produced around 530,000 tonnes of Unshu oranges in 2010, 19 per cent down on the previous year's bumper 655,000-tonne crop.
A normal crop, below which point Jeju's autonomous government is unwilling to request marketing funding from Seoul, is regarded as somewhere in the region of 580,000 tonnes.
The Jeju government announced last year that it would continue to operate a so-called citrus 'check-off' programme in 2011.
Last year, these levies contributed to a total of Won2bn (€1.3m) in funding – with the Korean government making a 50 per cent contribution – which was used to support marketing activities, developing exports to foreign markets, training growers and improving quality.
A recent Gain report published by the US Department of Agriculture's Foreign Agricultural Service (FAS) noted that exports of Unshu oranges in 2010/11 were expected to fall to 2,000 tonnes, down by 50 per cent from the previous campaign due mainly to higher domestic market prices.
Russia and Canada are currently the major markets for Jeju mandarins, although they were expected to import limited amounts during the 2010/11 season.
Last year, the US Animal and Plant Health Inspection Service issued revised import requirements for Jeju citrus exports, expanding the area in the US where Unshu oranges from Korea can be distributed.
'At present, Unshu oranges are exported to overseas markets under a voluntary contract plan between the Jeju government and growers each year,' stated the FAS report.
'However, the provincial government plans to extend its contract period from one to two years in order to meet export commitments in the future.'
Over the next few years, the Jeju authorities have apparently set a target of 5,000 tonnes for the region's annual mandarin export deal with the US, the report continued.
'Additionally, the Jeju Citrus Growers Agricultural Cooperative is developing marketing and distribution strategies to successfully access the US market.'