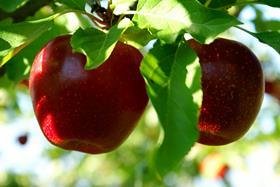 Virginia-based grower body for the US apple industry, USApple, has called on the US government to go a step further in its negotiations with India, which commenced recently.
News the US trade representative's office met with counterparts from India to start ag-trade negotiations was welcomed by USApple president and chief executive, Jim Bair, but he said more needed to be done.
Bair said India was the third largest apple export market for US-grown apples, with demand "exploding" in 2016-2017, before a tariff on aluminium and steel imports, known as Section 232, changed everything.
"[The tariffs] were supposedly an attempt to hurt China, but they were put on many countries, including our allies like India, which is the world's largest democracy and has been our ally and should continue to be a good partner," he said. "So, unfortunately, that forced their hand. The tariffs that they put on our apples is now 70 per cent total."
Bair said not only did the actions of the Trump Administration hurt the American farmer, Section 232 was never designed to be used in this fashion.
"It was intended to be used only for purposed of National Security, in a war for example. So, to use that as what we would say is a very blunt club to try to achieve something that should have been done with a surgical scalpel. And we're seeing the impact and the effect of that on agricultural producers across the US today."
Bair said the US government needs to remove tariffs on steel and aluminium from India, so growers can benefit from the roughly US$1bn market again.