The multinational avocado supplier has moved swiftly to establish the position of Tanzanian fruit in India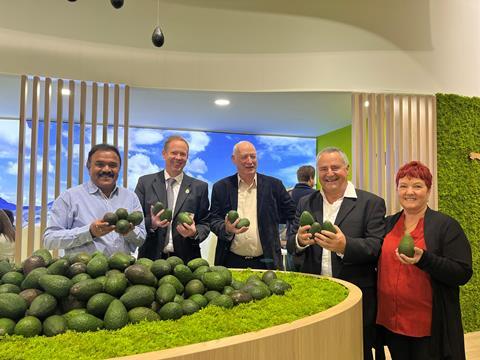 Westfalia Fruit said it will move briskly ahead in the Indian market with avocados, leveraging on the strong sourcing base it has developed in Africa over many years.
Access for Tanzanian avocados to India was announced in November 2021, and Westfalia was swift to take advantage of the new protocol.
The major supplier airfreighted its first consignment of 200kg of Tanzanian avocados from Julius Nyerere International Airport in Dar es Salaam to Chhatrapati Shivaji Maharaj International Airport in Mumbai in January aboard an Air Tanzania plane.
A further 60 tonnes have subsequently been airfreighted into India by Westfalia followed by several sea freight containers.
Westfalia said that prior to opening its doors to Tanzania, India was only able to import avocados from New Zealand and Peru, subject to high airfreight cost.
"Now Westfalia has begun shipping containers of avocados through Mombasa Port, Indian consumers can access 'green gold' at a more affordable rate in retail stores," the company said, noting that shipments by sea take less than nine days to reach Mumbai.
"The combination of Tanzanian supply with local Indian production will also ensure that India's 180m upper- and middle-class shoppers now have year-round access to affordable avocados.
"Additionally, Westfalia has started delivering triggered (partially ripened) fruit to retailers across the Indian sub-continent, including those in Mumbai, Delhi, Chennai, Bangalore and Hyderabad."
Westfalia Fruit said the extra-large Hass avocados that tend to grow on Westfalia's northern Tanzanian farms have proved to be very popular with Indian consumers. "Westfalia is determined to develop the Indian market into a significant consumer of avocados in the future," the company said.
Retail trade launch
With the arrival of the first sea freight container in India, Westfalia hosted a trade launch in Mumbai to introduce Tanzanian-grown Westfalia avocados to representatives of some of the country's largest retailers.
"The launch was an ideal opportunity to share with delegates the benefits of partnering with the world-leading avocado experts and securing consistent supply of quality fruit to meet the demands of a growing Indian population," said Westfalia's executive of global farming and nurseries, Zac Bard.
Bard said the establishment of its joint venture in India with Sam Agri – West In Avo India – was a very important development.
"The joint venture enables the group to bring to India its expertise in every part of the value chain, from nurseries and growing techniques to producing the best quality product to put on supermarket shelves. Additionally, local farmers have started investing in avocado production in India on old coffee farms and will be supplying their fruit to West In Avo India later this year."
In other developments, Tanzania's Ministry of Agriculture recently announced plans to establish a shared facility in the southern highlands responsible for collecting, sorting, grading and packing all the region's avocados to ensure consistency of product quality before shipment. The government will also establish a 'green channel' aimed at facilitating the export of quality fresh produce from farm to market.
These plans also include efforts to open the Chinese market for Tanzanian avocados.