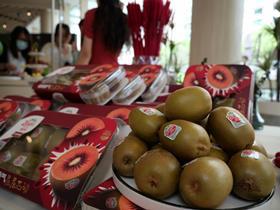 Zespri and Pagoda have joined together for the launch of the first Zespri Red campaign in China.
Zespri has introduced the new variety to China this season and 10,000 boxes will be exclusively sold by Pagoda through its offline stores in Shanghai and through Zespri's flagship store on Tmall, which is exclusively run by Pagoda.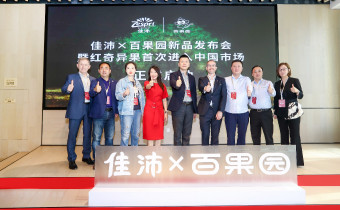 Kok Hwee Ng, marketing director of Zespri Greater China, told Asiafruit at the launch event on 26 April that this milestone had been over a decarde in the making.
"Zespri Red has gone through every link of Zespri's global unified production standards, ensuring the highest food safety level and the best quality," Kok Hwee Ng said.
'The pandemic has made all consumers pursue a healthy life and pursue a single product that is nutritious and can bring health to their families and Zespri Red is in line with this trend.'
Peter Zhu, vice president and general manager of international purchasing said the retailer was confident about the prospects of Zespri Red and told Asiafruit it had the potential to follow in the footsteps of Zespri's successful SunGold kiwifruit.