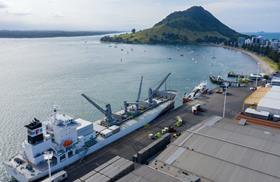 The 2021 New Zealand kiwifruit export campaign is drawing to a close, with the last consignments of fruit departing the Port of Tauranga this week.
Just under 2,000 tonnes of Zespri Green kiwifruit were loaded onto the reefer vessel MV Kakariki, which will unload in Tokyo and Kobe in early December. The final shipment of refrigerated containers, bound for Hong Kong, will depart in the coming days.
Alastair Hulbert, chief global supply officer of single-desk marketer Zespri, said disruptions to global shipping networks have increased the reliance on chartered reefer vessels this season, with 66 used this year compared with 49 last year.
Around 17,000 refrigerated containers have also been used to deliver this year's crop, which filled 177m trays (or around 620,000 tonnes) of Class 1 kiwifruit.
"This has certainly been one of our most difficult seasons to date with both labour shortages and rising costs as well as the additional complexity and uncertainty driven by Covid-19, and the challenges we are facing are likely to remain as we head into the 2022 season," said Hulbert.
"The pandemic and the associated ongoing global shipping disruptions saw us increase the number of chartered reefer sailings we had planned in order to safely and flexibly ship our fruit to key ports in Asia, Northern Europe and the Mediterranean. This allowed us to minimise the impact of the disruption and deliver our season."
Zespri marketed the largest crop of New Zealand-grown SunGold kiwifruit on record in 2021, with just over 100m trays delivered worlwide. Around 77m trays of Zespri Green kiwifruit were sold.
With the 2021 New Zealand season now complete, Zespri is turning its attention to 2022.
"We're again anticipating global shipping disruption, rising freight costs and a significant labour shortage of an estimated 6,500 people and challenges posed by Covid-19, so we'll continue to work closely with our partners and the broader supply chain in order to meet those challenges and deliver the season, while ensuring we remain focused on supporting our people and communities through the challenge," said Hulbert.