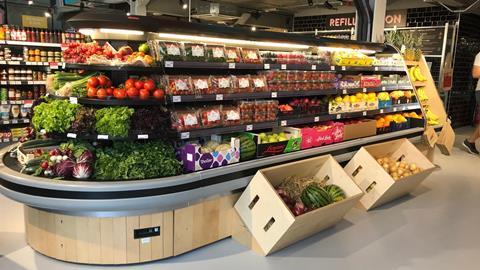 Fresh produce is a key category for every food retailer and, indeed, for every store. Often the first major category that a shopper encounters when embarking on a shopping trip, it can be a bold statement of intent or, sadly, a harbinger of forthcoming mediocrity across the rest of the store.
As a category, fruit and veg has arguably never been so important: it is vital in terms of value perceptions (see the way that discounters use a limited number of items as part of their weekly marketing); it sits at the centre of heath and wellness endeavours; it is in the crosshairs of environmental campaigns around food waste and plastic packaging; and it is one of the main drivers of shopper perceptions. Gap-ridden shelves or second-rate produce are unforgivable sins.
It is therefore curious that so many big UK retailers do such an average job here. Unimaginative displays, a focus on efficiency, pre-packed product and a panicky look over the shoulder at waste budgets so often mean that UK produce displays are a sterile wasteland of plastic instead of what could be a riotous feast for the senses. Luckily, there are smaller retailers and overseas businesses to show us what good can look like.
Unless The Grocer (the website where this article was originally published) has launched scratch and sniff capabilities, you'll have to take my word for the fact that most of these displays smelled superb as well as looked amazing: food and drink retailing should be a sensory experience and these examples from around the world certainly deliver.
Carrefour (Spain)
I could have used many examples from Carrefour across Europe, but this one from an urban store concept in Madrid just about edged it. Spanish shoppers continue to frequent independent greengrocers in their droves, meaning that expectations of service are very high indeed. This has encouraged Carrefour to offer a service area in addition to regular self-service displays: a phenomenal assortment with personal service too.
Daylesford (UK)
UK organic grower and retailer Daylesford might be better known for its home delivery service, but it also operates a handful of stores, four of which are in London. This one in Brompton Cross is a lovely affair and includes a very pleasant produce section. While the pricing might not be for the financially squeamish, the range and merchandising is second to none, featuring plenty of products grown on Daylesford's own farm.
Eat 17 (UK)
Elsewhere in the capital is this lovely Eat 17 store. Opened in 2018 in Hammersmith with a striking design and impressive food-for-now offer, the main body of the store includes this striking chilled produce display. With stylish lighting and a timber trim, the fixture really brings the product to life and proves that a smaller retailer trading through smaller stores needn't see a lowering of the bar when it comes to fruit & veg retailing.
Zurheide Feine Kost (Germany)
We head to Dusseldorf for our next example – the Edeka retailer Zurheide Feine Kost. We are expecting to see plenty more of this type of deployment across Europe in the coming years: hyper-local hydroponic in-store 'vertical farms' enabling shoppers to buy the freshest possible product with zero food miles. Not only a great solution, the units (this one is from Infarm) create shopper engagement and are also visually stunning. These and similar units are already in use in France, the Netherlands and Switzerland in addition to Germany – and Infarm is hiring in London too.
Fresh Thyme Farmers Market (US)
The US is awash with smaller supermarket chains that serve particular regions or strive to occupy a distinct place in the market. Fresh Thyme Farmers Market trades through around 80 stores in the Midwest and seeks to marry a farmers' market experience with a range intended to enable healthier lifestyles. It has strong partnerships with local suppliers and aims to provide great seasonal lines, as this fine display of asparagus demonstrates.
Jumbo Foodmarkt (Netherlands)
Jumbo Foodmarkt – the 'food porn' megastore concept from Dutch supermarket operator Jumbo – provides best practice across many fresh categories and produce is no exception. We particularly like the pick 'n' mix approach to smaller varieties of peppers and tomatoes, intended for kids (and adults) to enjoy healthier snacking options.
K-Citymarket (Finland)
Herbs are so often a missed opportunity but this K-Citymarket hypermarket in the Finnish town of Järvenpää makes the most of them here. In a beautiful display, the retailer combined fresh herbs and potted herbs to create impressive breadth and depth, while at the same time creating an olfactory delight.
Lucky's Market (US)
Lucky's Market – founded in Boulder, Colorado, by two chefs who intended to create a grocery destination for fellow foodies – might now be backed by grocery giant Kroger, but it has lost none of its quirky charm. Its produce display, with plenty of local and organic items, is a sterling affair with huge design impact, which serves as a fine introduction to the rest of the store.
Real (Germany)
Real, the German hypermarket business that has not exactly flourished amidst cut-throat competition, has taken the decision to swim upstream away from the likes of Lidl and Aldi. In its Markthalle concept in Krefeld, it has sexed up all categories through a much-improved look and feel and spectacular fixtures. Even a humble product like potatoes can be elevated!
Stew Leonard's (US)
Stew Leonard's – the independent retailer with seven stores in Connecticut and New York – is more akin to a theme park than a grocery store. Its produce department features animatronic products, among other attractions, but even a relatively simple display behind a picket fence allows the product to take centre stage.
This article, which first appeared in The Grocer and is reprinted with kind permission of William Reed Business Media, is part of a series for The Grocer on excellence in in-store merchandising by TCC Global insight director Bryan Roberts.
Bryan Roberts is insights director at TCC Global, a world leader in creating retail marketing programmes designed to engage shoppers and grow retailers' sales.