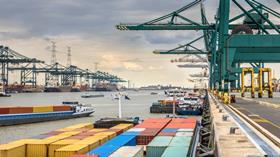 The port of Antwerp has revealed that it put in a strong performance in 2021, despite what it called a challenging year of disruptions in the global supply chain.
According to the Belgian port, it saw growth that helped it match its record year of 2019.
Total cargo throughput in 2021 was 240m tonnes, growth of 3.8 per cent compared with 2020, and slightly up on 2019.
'2022 promises to be an exciting year that will include the merger with Port of Zeebrugge and important milestones for numerous pioneering projects, despite the ongoing Covid-19 crisis,' the port outlined.
Global containerised liner shipping remained highly disrupted, causing irregular calls from ocean-going vessels.
As a result, average call sizes – the amount of freight exchanged per visit – were increasing and there was also a growing number of call size peaks.
This represented a major challenge for the entire logistics chain in and around the port, the port explained.
In addition, the shortage of port labour, mainly due to Covid-19 and federal measures to combat the virus, was compounding the problem.
'Despite these difficult conditions, container traffic held steady in 2021 at around 12m TEU (down 0.1 per cent).'
The port said that the number of reefer containers had increased by 2.6 per cent in 2021 compared with previous year.
This was partly due to growing demand, as well as the strong maritime position in Latin America, Africa and the US.
"Despite the strong performance, 2021 was not an easy year for our port,' confirmed Jacques Vandermeiren, port of Antwerp CEO. 'Thanks to the resilience and world-renowned qualities of our port community, we have returned to the 2019 pre-Covid-19 year after barely a year.
'However, there continue to be important areas of concern,' he explained. 'Short-term labour availability in this challenging sanitation situation. In the longer term, the nitrogen matter, the achievement of much-needed additional container capacity, and the energy transition will be great challenges.
'That is why the historic agreement of the merger with the port of Zeebrugge is visionary. Together, we are stronger to face the challenges of the future.'