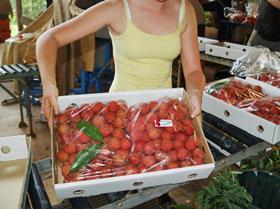 The Australian lychee industry has identified North America as a key market in its plans to develop exports.
The industry has been able to maintain its trans-Pacific supply chain throughout the pandemic with the help of the Australian government's International Freight Assistance Mechanism (IFAM) programme. This link may prove especially valuable as conditions get closer to normal according to president of the Australian Lychee Growers Association, Derek Foley.
Foley said previously, Hong Kong and China accounted for the bulk of Australian lychee exports but growers were now zeroing in on their existing links into the US.
Consistent interest from the US market has allowed exporters of the sub-tropical fruit to align their operating models to alternative supply chains during the pandemic.
"We've only been exporting to the US for about five years, but interest has remained strong. There's a really robust market there now," said Foley.
"All our produce usually goes in the belly of commercial aircraft,so the moment that was taken away from us, it was concerning.
'When the IFAM programme came in it certainly helped relieve some of the pressure of moving our product,' he adds. The IFAM programme hasreally assisted us withbeingable to stay connected to our international markets."
The world's longest production season (October to March)and a high-quality product have allowed the Australian lychee industry to cultivate strong demand across its export markets, which also include New Zealand, Singapore and Canada.
Foley said this interest has powered the growth of the industry and new plantings will likely increase production and exportsby up to 20 per cent.
"The industry has had quite buoyant prices fora number of yearsnow," explained Foley."That's encouraged newcomers to come into the industry."