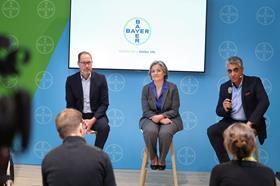 Bayer Crop Science, the agricultural arm of global pharmaceutical giant Bayer, is repositioning itself from inputs supplier to sustainable solutions provider for the entire fruit and vegetable supply chain.
At a press conference held during the Fruit Logistica trade show in Berlin last week (6 April), a panel of Bayer Crop Science representatives said the company had shifted its focus from supplying chemicals for crops and countries, to looking at horticulture through a "holistic lens" to address the needs of consumers, growers and retailers.
The panel said Bayer's goal was to supply innovative and sustainable seeds, biological and traditional crop protection, as well as digital solutions to benefit the entire fresh produce sector.
Speakers added that Bayer planned to reduce the environmental impact of its crop protection products by 30 per cent by 2030, and that sustainability was "at the heart of everything" it was trying to do.
Frank Terhorst, head of strategy and sustainability at Bayer's Crop Science division, said: "By 2030, consumers are expected to increase their spend on fruit and vegetables by 50 per cent. The business interest for us is to make this happen. We want to bring solutions to the farm, develop horticulture on the farm as well as beyond the farm.
"We have transformed from an input provider to a solutions provider for the whole supply chain. Our goal here is to provide seeds, plant protection products and digital innovations."
Inci Dannenberg, president global vegetable seeds at Bayer's Crop Science division said the group's stated vision 'Health for all, hunger for none' would be achieved by Bayer "leveraging all possible technologies to bring growers effective solutions to grow sustainable vegetable at affordable prices".
"We are working to achieve this by making sure everyone has access to fruit and vegetables, and they have the vegetables they want to eat," she said. "That means developing varieties that provide a good yield for the grower and have a good shelf life, but that also have a great taste, colour and texture.
"This means understanding the needs of consumers to develop new products, also working with growers on how to get their produce known, and working with retailers on how best to market the products," Dannenberg added. "For example, we are working with vinologists to develop descriptors for our tomato varieties to help market the products in store."
Kamel Beliazi, crop strategy lead horticulture, Bayer Crop Science, explained that in Bayer's work with growers, the group was combining its chemical, biological and digital applications to help address producer challenges of disease, pests, and optimise their yield to deliver affordable produce to consumers.
He cited the example of Bayer's GeoPotato tool, launched in Bangladesh, which uses satellite data to tell growers when they need to spray against potato blight.
"If we harness the right data and analytics to help growers make decisions, we advance precision agriculture" which is better for the environment, he said.
The panel said it was working to achieve its aims "by working collaboratively with the best people". For its data-driven and analytics solutions Bayer works with digital start-ups globally, partners with a variety of customers and businesses, and was cooperating with a number of retail partners to better market their products to consumers.
"Our goal is to address the needs of the market, and give growers the opportunity to deliver the needs of the consumer," said Terhorst.