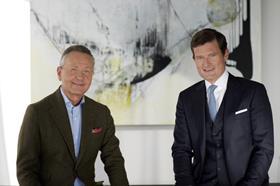 The BayWa supervisory board has announced changes to the senior management team as it looks to take 'steps to ensure continuity on the group' board of management and supervisory board'.
After 15 years in office, CEO Klaus Josef Lutz will hand over responsibility for the operational management of BayWa on 31 March 2023.
The supervisory board of BayWa has appointed Marcus Pöllinger, a current member of the group's board of management, as the new CEO from 1 April 2023.
Pöllinger has been a member of BayWa's board of management since November 2018 and is responsible for the agri trade and service, agricultural equipment, building materials and energy business sectors in Germany.
Wolfgang Altmüller, chairman of the supervisory board of Bayerische Raiffeisen-Beteiligungs AG – BayWa's largest shareholder – has nominated Klaus Josef Lutz as the future supervisory board chairman of BayWa.

Manfred Nüssel, the current chairman of BayWa's supervisory board, stated in 2018 that he would not stand for re-election.
Nüssel has been a member of BayWa's Supervisory Board for 38 years and has been its chairperson for 22 years, making him the longest-serving supervisory board chairman at a listed company in Germany.
"By making succession plans in advance, the Supervisory Board is initiating an orderly handover and ensuring the continued development of BayWa,' said Nüssel.
'Prof Klaus Josef Lutz took over as CEO in 2008 and has since refocused BayWa from the ground up,' he continued. 'The most important step under his leadership was the internationalisation of the agriculture and fruit business, as well as the decision to enter the fields of renewable energies.
'Thanks to his foresight and vision, BayWa is today a sound, healthy and globally active group of companies that operates successfully on every continent and is a pioneer in the fields of sustainability and climate neutrality."

"The supervisory board is grateful that BayWa will continue to have access to Prof Lutz's tremendous experience once he has been elected as supervisory board chairman in 2023,' Nüssel noted. 'The company is in a better position today than it ever has been. Prof Lutz has successfully guided BayWa through the crises of recent years with a steady hand."
BayWa said that its supervisory board had also decided to appoint a woman to the board of management in 2023.