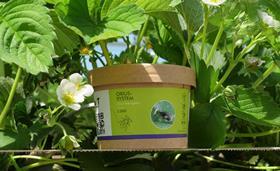 Biological pest control specialist Biobest says that new 100 per cent biodegradable packaging for its Orius-System thrips control product has delivered "real benefits" to Spanish growers this season.
Biobest has ditched plastic bottles in favour of sustainable cardboard cartons with removable lids, and included a gel formulation that provides water for the predatory bugs during transportation.
Sergio Moreno Fernández, technical advisor at agricultural distributor Viagro, commented: "The addition of the gel is an interesting innovation. This unique packaging ensures the insects remain hydrated and are therefore highly active as soon as they are released. We welcome the redesign - insect quality is obviously vital."
"We can see the Orius laevigatus is arriving fresher and with more activity," said Esteban Amat of agricultural cooperative La Mojonera SCA, "which translates to better thrips control. With the redesigned packaging format, installation is also faster and better."
Jorge Trujillo of seed company Semillas Fitó added: "Orius quality has been improved – when released, we could immediately see better activity. Containing less carrier, the Orius fly away more easily and distribute more evenly throughout the crop."
Francisco González Antequera of Almeria-based organic producer MJ Agroasesores welcomed the increased sustainability of the product.
"We use thousands of units of Orius-System annually," he said, "so replacing the plastic bottles and caps with biodegradable material is an important step. It's also proving more practical. The cardboard carton and lid are left in situ – allowing any remaining adults to escape – and are removed with the plant debris at the end of the crop."
Orius-System is the second Biobest product to switch to 100 per cent biodegradable packaging, with the company's Feltiella-System expected to follow this month.