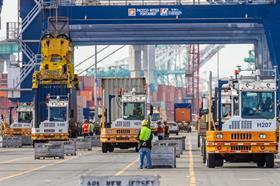 The Port of Los Angeles moved 856,389 TEUs in July, its busiest month thus far in 2020. It was also the second-best July in the port's history, trailing July 2019 by 6.1 per cent.
"Fewer cancelled sailings and 11 additional 'ad hoc' or unscheduled ship calls helped drive both imports and exports higher than recent months but still short of last July's all-time record," said Port of Los Angeles executive director Gene Seroka.
"Preliminary data for August indicates solid volumes as retailers continue restocking inventories and preparing for the year-end holiday season."
July imports came in at 456,029 TEUs, down 4.3 per cent on July 2019. Loaded exports dropped 21.7 per cent to 126,354 TEUs. Empty containers declined 0.1 per cent to 274,007 TEUs.
Seven months into 2020, overall volumes at the Port of Los Angeles are just over 4.6m TEUs, a decline of 15 per cent compared to 2019.