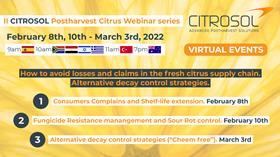 Leading postharvest specialist Citrosol is launching a series of virtual webinars on how to avoid losses and claims in the fresh citrus supply chain and alternative decay control strategies.
The first of these free-to-attend events, titled 'Consumer complaints and shelf-life extension' will take place on 8 February.
It will hear from expert speakers Jim Jefcoate of Hurdletree Associates in the UK and Benito Orihuel, former CEO of Citrosol.
Jefcoate, who previously worked for Asda and Walmart and has a deep understanding of the citrus supply chain in the UK and Europe, will look at the nature and causes of losses in the supply chain, and discuss preventative measures that the trade can adopt to minimise them.
Orihuel will then discuss how Citrosol products can reduce fungal decay and rind damage in citrus, helping to extend shelf-life and minimise losses.
"Peel damage has been always difficult to control, but Citrosol's new Plantseal and CI-Control coatings have brought to the packer and exporter much more assurance in the control of rind damages at destination," he said.
Valencia-based Citrosol is one of Europe's leading suppliers of advanced postharvest solutions for the fresh produce industry.
Today it is present in 22 countries worldwide, including the main citrus producing countries. In addition to its subsidiary in South Africa, it has its own staff in Egypt and Peru.
The free-to-attend events will take place in February and March. To register, visit https://www.citrosol.com/en/ii-citrosol-postharvest-citrus-webinar-series/