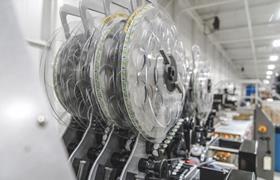 Canada-based Accu-Label says it is in the final stages of certifying its Compost-it branded compostable labels.
Described as a highly innovative line, Compost-it features proprietary labels that are made with certified compostable materials under TUV OK Compost Home certification.
Established in 2001, Accu-label is a global leader in eco-friendly fruit labelling technology. Its parent company, Ag-Tronic Control Systems, provides automation solutions for grading, conveying, packaging and labelling technology and has "been setting industry standards since 1991".
Compost-it is the latest innovation from the company, which offers eco-friendly labels made with sustainably sourced paper that adheres to the Forest Stewardship Council's certifications, food safe materials and are FDA-compliant.
"Each fruit label communicates our customer's brand identity and greatly reduces packaging materials and cost," Joe Sleiman, president and owner of Accu-Label, tells Fruitnet.
"Today's fruit label also incorporates food safety information such as grower and lot codes, country of origin etc. We were initially tasked with developing a better and eco-friendly alternative to the plastic labels that are on over 85 per cent of fresh produce.
'Our proprietary Paper Fruit Label was developed 20 years ago and still has unmatched success in today's market. It is great to see nations finally recognising what we have been saying all along and joining forces to ban environmentally harmful plastic fruit labels."
Sleiman says that being a vertically integrated company allows Accu-Label to offer the highest quality, service and performance of labels, labelling equipment and custom automation solutions.
Accu-Label's internationally patented labelling system, ORB-it G-2, is capable of labelling fresh produce directly in trays, or over grading lines.
"There is so much that goes into creating a sustainable fruit label," he continues. "The challenge is that the label must remain intact on the fruit throughout its journey from the packhouse until it reaches consumers, but it must also break down when it reaches landfills, waterways, or compost sites.
'Our Paper Label's success is also attributed to the highest rate of application and retention performance on wet or fuzzy fruit. We continue to successfully develop many custom label formulations with paper as our material of choice.'
To meet with international demand, Accu-Label has created a network of distribution partners across the globe, from Hong Kong to Australia, New Zealand, Europe and North America. One such distributor partner is Opal, one of the trans-Tasman's largest renewable packaging and paper businesses.
The global expansion has, according to the company, been fuelled by bans on plastic and non-compostable labels, which has increased demand for Accu-Label's paper-based labels and labelling technology.