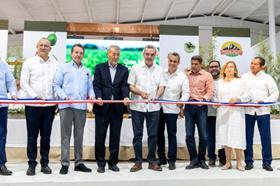 Crystal Valley Foods and its partner Island Farms have opened a state-of-the-art packing house in La Vega, Dominican Republic.
The new facility is the first agriculture-related warehouse in the La Vega free zone and will boost exports of the wide variety of high quality fruits and vegetables grown in the Dominican region. It is also one of the only pepper packing houses and fields in the country that is certified.
The Island Farms packing plant will start with packing specialty peppers and tropicals (bulk and retail packs) and will continue to expand to include other locally sourced fresh fruits and vegetables.
"The Dominican Republic has always been a favoured and important growing region for US fresh produce imports," said Jay Rodriguez, president of Crystal Valley Foods.
"Its rich soil and variety of microclimates allows for a diverse range of fruits and vegetables to be grown there year-round and throughout the country.
It also has sophisticated infrastructure and is just a short ride away from US ports, allowing product to get here faster and at lower costs."
Having a presence in the Dominican Republic will allow Crystal Valley to have better control of the quality and packing of the product the company ships from there as well.
"We appreciate the support and attention the Dominican government, including President Abinader and the Minister of Agriculture, Limber Cruz, have given to this project," said Rodriguez. "We are looking forward to working with Island Farms and expanding our product line and our footprint in the country."
Island Farms and the new packing plant will generate more than 120 new jobs in the La Vega free zone and indirectly more than 500 jobs throughout the neighbouring countryside.